News from Fleet Lions
Latest Newsletter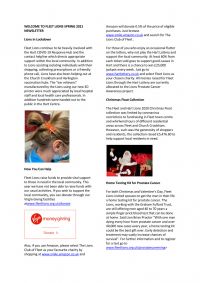 Newsletter2021-03
Another new member for Fleet Lions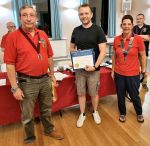 James Nelmes was recently inducted into Lions at our September Club meeting. He had visited committees and Club meetings on Zoom and finally got to help at some of our live events and activities. President Lisa was very pleased to welcome him and he was sponsored by Lion Mark Cooper MJF (on the left) after he was contacted by James initially. It was great to also have our new District Governor Brian Donovan present in the background too (not like him!).

Fireworks Fiesta - UPDATE : Sorry all tickets are now sold out PLEASE DO NOT COME ALONG IF YOU DON'T HAVE TICKETS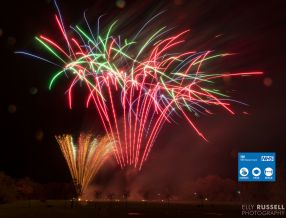 We will have a great display on 6 November at Calthorpe Park, Reading Road North. And do all we can to keep you safe in these uncertain times. We won't have the large number of food & drink stalls we normally have and entry will ONLY be by tickets bought online IN ADVANCE. We will restrict tickets sales to 4,200 so the crowd will not be as big as it has been in the past & you will be able to distance yourselves from others more easily. There are more details on our Fireworks Fiesta page, particularly about keeping you safe and how to get your tickets.
Dave Hurrell has finally left the stage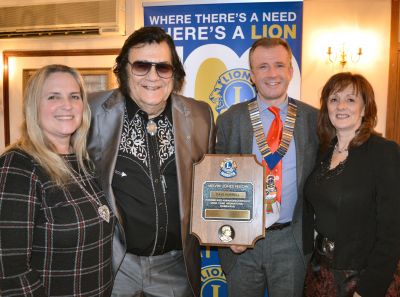 We said our final goodbyes to Dave at his funeral earlier this year. It was packed out with so many people he'd touched over the years. 'Elvis' had done so much for charities in the local area. And he entertained us all so well and so many times. Dave performed his Elvis Presley appreciation act at dozens of venues for the benefit of numerous local causes including our own FunFest. He raised thousands of pounds for charities in North Hampshire and Surrey. We honoured him when we presented him with a Melvin Jones Fellowship – the highest award within the Lions Clubs International movement. Elvis has left the building - but not our hearts!
Charity Walk - come and discover the beauty of nature on your doorstep while helping people in need - Sunday 22 August.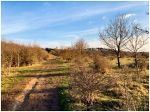 Fleet Lions organised our first Charity Walk in this lovely natural, recreational space of over 200 acres. Nearly 100 adults, children, dogs and one unicorn came and joined us and learnt about all of the plants and wildlife on the edge of Fleet. Many commented that the SANG was a new place for them and they would return to enjoy it again.
The walk was at Naishes Lane SANG, off Naishes Lane, Church Crookham. Nearest Postcode: GU52 8TJ
More details here.
Lions' Summer Fun Day - 15 August, Yateley Manor School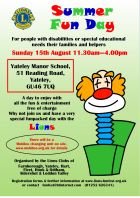 The Summer Fun Day was a fun packed day for people with disabilities or special educational needs, their families and helpers. There was no charge to attend but those wishing to attend had to register. The emphasis was on music and fun, for people of all ages and abilities: with bouncy castles, roundabouts, steam train rides, face painting and plenty of sideshows and games. Around 600 people came along and had a great time in the sun. And Victoria BeeBee had them on their feet dancing to her great songs. The event was run by us, Aldershot, Farnborough, Hart, Hook and Odiham, Lodden Valley and Yateley Lions. We all contributed to the cost of staging the event.
A new year and a new President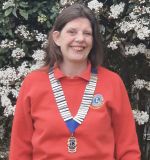 So a new year begins for us on 1 July. And we have our first lady President, Lisa Rust. She's done a great podcast about Lions with Fleet Community Life. Lisa has been with us for three years now having started with our road closure activities. She helps at the Lions Community Store, coordinates the Lions 'Message in a Bottle' scheme in Fleet and collects 1000s of used spectacles from Fleet's opticians for the 'Third World'. She's done lots to help during the pandemic and would like to see Fleet Lions continue to help our local community come out of the other side of Covid 19. We hope to run projects within the local schools as the children are our next generation of volunteers. We're looking at running projects that help our environment. And Lisa hopes we will also find time for friendship and having fun too! We're all looking forward to a great year under Lisa's watchful eye and steady hand.
An Honour for Sue Vincent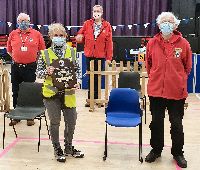 Our President Bill presented Sue Vincent from Hart Voluntary Action with the prestigious Melvin Jones Fellowship award at the vaccination clinic today. It's the highest award we can give and extremely well deserved for all her fantastic work for the community, especially the Covid hub and vaccination centres.
And an MJF for Lions Graham Drayton, Mark Cooper and Mike Collen too
These guys have done so much for the local community, particularly during the pandemic. So it is only right we should have given them the highest Lions honour possible, an MJF.
See their surprise here: https://youtu.be/YQ9lkZLUAXg
A new member for a new year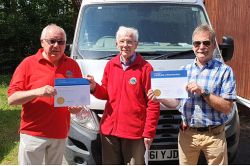 Robert Norris (RHS) was recently inducted into Fleet Lions by President Bill as his year came to an end. Robert was sponsored by Lion Graham MJF (LHS) who is one of the leading lights in our IT recycling project as that's how Robert became involved in Lions' activities.
14th Beerfest Sadly Cancelled
We heard that a delay of 4 weeks for Stage 4 relaxation of rules will be announced on 14th June. And of course it could be longer. We feel the odds are against us so decided we're sadly going to cancel the Lions Beerfest this year. Under current rules it just isn't viable enough. We need the rules relaxed as promised for Stage 4.
Home Prostate screening tests - find the missing men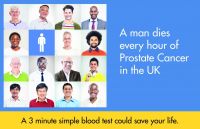 There has been a massive fall in the number of men being referred by GPs for diagnostic tests during the pandemic. So we are sponsoring home testing kits for prostate cancer. Fleet Lions, working with the Graham Fulford Trust are offering Fleet men aged 40 to 70 a simple finger prick test that can be done at home. It'll take 5 mins to follow the simple instructions. Said Lion Brian Proctor, "with one man dying every hour from prostate cancer and 40,000 new cases every year, a home testing kit could be the best gift for life ever. Early detection and treatment may vastly increase chances of survival." To register for a test and Find out more...
Our 2nd on-line quiz on 15 May

We had a good few entries join our 2nd online quiz and some even worked as virtual teams across several households! We asked for a donation via our Virgin Money Giving page, just click here & raised a nice sum for our charitable activities. Lots of favourite tipples & nibbles & curries from the comfort of their own home. Lion Laura hosted a great night. Hopefully our next quiz evening will be face to face.
Register for our 2nd on-line quiz on 15 May

Join us for a fun quiz evening - no prizes, just an informal get-together with a few questions to get your brain cells back in action as we come out of lock-down. This is our second online Quiz. Just register and Zoom log-in details will be sent nearer the time. Only one person per household need register. We are asking for a donation via our Virgin Money Giving page, just click here. Get yourself lots of favourite tipples & nibbles & curries and Lion Laura will host a great night from the comfort of your own home.
Please welcome our newest Lion to our pride, Marcel.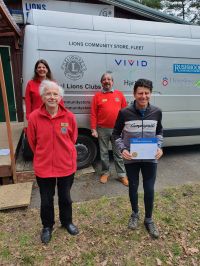 Yes - it was our first on-line quiz

We had over 20 entries join our first online quiz last night and some even worked as virtual teams across several households! We asked for a donation & raised a nice sum for our charitable activities. Lots of favourite tipples & nibbles & curries from the comfort of their own home. Lion Laura hosted a great night.
Community Store open again
The community store is now open again (24/2/21). Donations cannot currently be accepted without booking, Please email admin@communitystore.org.uk to book a timed slot Tues-Thurs between 10am and 12 to drop off smaller items. Thank you for your support.
Santa's visit to Fleet
It was different for us but we hope you got to see Santa this year. All your donations were very welcome and have gone towards the 140 food parcels the Lions Community Store distributed for us this year. And thanks for all the entries in our colouring competition. The winners were: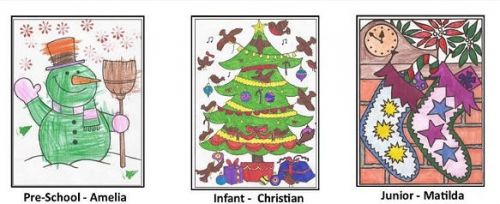 We hope you all had a very Merry Christmas and wish you a healthy and prosperous New Year in which you can come along to some of our events.
Home Prostate screening tests - calling all men aged 40 to 70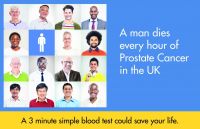 With one man every hour dying from prostate cancer and 40,000 new cases every year and no national screening available, we aim to provide a PSA blood test to as many men between 40 and 70 as possible. It's well proven that early detection and treatment may vastly increase your chances of survival.
Home Prostate screening tests available
Based on the success of our previous Prostate Cancer Awareness days, Fleet Lions are working with the Graham Fulford Trust to offer men a simple finger prick test that can be done at home. It'll take you 5 mins to follow the simple instructions.
Make a donation and leave a Christmas message
Click here to leave a Christmas message and help us to continue helping others
Santa will be coming to town from 8 December!
We're planning to do our Santa runs and statics this year and in a Covid-safe, socially distanced way. Donations will be very welcome. We're also having a Christmas Colouring Competition where where you can win a 92 piece art set. Just download and colour in your favourite picture and deliver to Father Christmas on the Lions Christmas float. For more details of float routes and to download pictures click here. The members of Fleet Lions would like to wish you all a very happy Christmas.
Denis joins us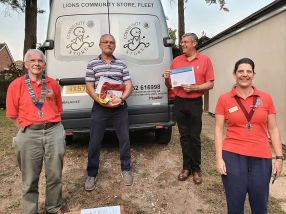 We were very pleased that Denis Rees-Clark has decided to join us. He's been around at many of our events over the past few years so knows what's involved and has joined us for our recent Club and committee Zoom meetings. We badged him up in a socially distant way and then shared the simple ceremony with our Club members by video.
Lions Community Store Christmas toys appeal
The Store is now collecting brand new toys and Christmas themed sweets/chocolate for distribution for Christmas. If you want to donate something please email the Store @ admin@communitystore.org.uk or message Fleet Lions on our Facebook page.
4 Nov 2020: For the latest period of national lockdown the Store is no longer accepting donations and all assistance requests should be made to admin@communitystore.org.uk
Wearing a face mask making your ears sore?
Fleet & Aldershot Lions come to the rescue making straps to relieve pressure on the ears of our wonderful medical staff & care workers, who may have to wear masks all day. Watch our 3d Printer creating these using time-lapse to speed up from 2.5 hours to just over a minute!
Our New President

1st of July and the start of Fleet Lions' year and with that we have a new President for 2020/21, Lion Bill Petley. Congratulations Bill, may you have a great year!
Our thanks to the outgoing President Lion Mark Cooper who has successfully kept us all sane during this very difficult period.
Top Lions Honour for David Millen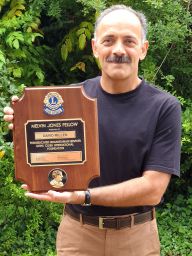 We were recently very proud to present Lions International's highest recognition award to David Millen. David has been recognised by Fleet Lions for his outstanding commitment to serving his community both locally and further afield.
He has been a major driving force within the scouting movement and Royal British Legion, running the ever growing popular Remembrance parades. Fleet is very lucky to have such a dedicated resident with incredible energy who is always on hand to support community projects such as Carnival, Christmas Festival, Beerfest, Fireworks and numerous other projects with Road Closures and Marshalling.

Lions 14th Beerfest: Postponed to 13 February 2021
We've postponed our August Beerfest to 13 February 2021. We guess this won't come as a surprise to you. The Government's plans to come out of lockdown are not going to allow an event such as ours to be held at the Harlington on 1 August. So we have booked a slot for when we hope a lot of the current, necessary restrictions will have been eased. We'd guess tickets will be on sale towards the end of the year.
Supporting Brain Tumour Research
Lions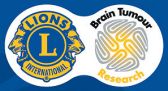 Clubs in the UK are working in partnership with Brain Tumour Research to raise £1 million over four years to help fund game-changing research and raise awareness of the impact of brain tumours. Brain tumours are indiscriminate. They can affect anyone at any age.
More details here. Make a donation here.
Classic Motorcycle Run and Concours 8 May 2020
SORRY THIS HAS NOW BEEN CANCELLED
Hopefully see you on 3 May 2021
Lions COVID-19 support in Fleet
Do you need help?
Coronavirus (COVID-19) – helping Hart residents most in need
A helpline is now available to provide information and advice, as well as practical support, to frail or vulnerable Hampshire residents during the coronavirus outbreak.
The Coronavirus Hampshire Helpline is 0333 370 4000
The helpline is available 7 days a week, from 9am to 5pm, and is for vulnerable people who do not have support from families, friends or their local community, and who need urgent assistance with practical issues such as essential food/household supplies or collection of medication, or who are at risk of loneliness. Hart residents who contact the helpline will be directed to appropriate support within the local community, including services and support being provided through the newly formed Hart Response Hub. The Hub is jointly managed by Hart District Council and Hart Voluntary Action, working in partnership with established voluntary groups such as Fleet & Hart Lions, Churches Together in Fleet and Hart Foodbank, and local volunteers.

Do you want to help?
Just fill in the form here and let us know your details. Hart Voluntary Action are currently working through the kind offers they have received so far.
Lions Community Store Needs Your Help
The Lions Community Store is in desperate need of household goods and appliances in reasonable condition to support needy families and individuals in our area. They urgently need more furniture (especially small settees and chests of drawers), bedding, "white goods" (washing machines, fridges, fridge/freezers) and small electrical goods (toasters, kettles, microwaves, TVs, lamps, vacuum cleaners). If you have any suitable items they will collect them at a time to suit you. Please contact the Store by phone (01252 616998) or e-mail (admin@communitystore.org.uk).
Find out about the Store's work at www.communitystore.org.uk

To contact the Store or for full details of what they do and how they can help you please go to their independent web site here. Fleet Lions are not involved in day-to-day operations and may not pass-on your messages!
Recycled Computers
Fleet Lions have teamed up with other Lions Clubs in the area and as part of the Microsoft Registered Refurbisher scheme are now refurbishing PCs and laptops and donating them with preinstalled Microsoft software to local non-profit organisations, charities, preschools and families in need. Each PC is loaded with an official copy of Windows 10 Pro and a range of free software, including Libre Office. Contact it@fleetlions.org.uk
Lions' Den
This was cancelled due to the coronavirus

DOES YOUR COMMUNITY PROJECT NEED SUPPORT?
DARE YOU ENTER THE LIONS' DEN on 22 May?
THE big chance for individuals or voluntary and community organisations to present their ideas to a panel of Dragons organised by Fleet Lions – with a chance of winning financial or other support. More details here.
Classic Motorcycle Run and Concours 8 May 2020
This was cancelled due to the coronavirus
Hopefully see you on 3 May 2021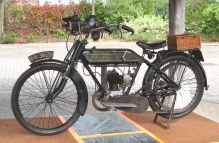 Our 37th Classic Motorcycle Run and Concours would have been again at The Key Car Park, Elvetham Heath, Fleet, GU51 1HA. We would have got several hundred amazing bikes and they all have a fabulous ride out at 11:00am before returning for judging by 2.15pm. So bring your bike along and join them. Or just come and have a look at them. Riders arrive between 9:30am and 10:30am. Hot rolls and drinks will be available. More details here.
Very sad news
It is with deep sadness that we have to announce the passing of Beverley Allardice MBE, MJF. The manager and stalwart of the hugely successful Lions Community Store since 1995, she was appointed MBE by the Queen in 2002 for her outstanding contribution to the local community and was honoured in 2008 with the Lions MJF award. Often said in these circumstances but never meant more passionately: Bev will be very greatly missed. We're sure you will all join with us in condolences to her family and loved ones.

Wenceslas Project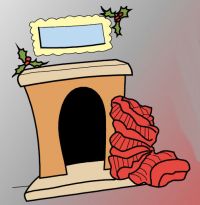 At this time of year of Good Will to All Men, are your financial circumstances such that you could forego your annual Winter Fuel Allowance, knowing that by doing so you could help a local family that is suffering from Fuel Poverty? You donate your Winter Fuel Allowances – in full or partial payments – we hold them in a fund to pay fuel charges for local families that are in debt to their energy suppliers. For more details click here.
Diabetes Screening Event
Are you at risk of Diabetes? Invest 10 minutes of your time with Fleet Lions on 1 February in the Hart Shopping Centre and find out. 90 of you did the screening which showed that half of you needed to take action. A few of you were referred to your GP. And we had some nice chats too!
We were there between 10am and 3:30pm; the free screening didn't involve taking blood samples and you didn't need an appointment. More...
Christmas Float
We and Hart Lions toured Fleet and Church Crookham with our Christmas Float during December. We were also at the Hart Shopping Centre and outside Morrisons. You generously donated just under £7,000 to help those less fortunate. Very many thanks, we'll use it wisely and started by providing seasonal food parcels to people identified through the Lions Community Store. A special thanks to elves Dennis Rees-Clark, Simon Rust and Phill Gower for providing their own reindeer!
Christmas Carol Concert - Wednesday 4th December
Our annual Christmas Carol Concert for elderly citizens took place at the Church on the Heath, Elvetham Heath. Home Instead Farnborough kindly sponsored this year's event. It was our pleasure to welcome nearly 200 guests. Beginners on Stage, Stagecoach Performing Arts and Shuffletunes did a marvellous job entertaining everyone. So a big thanks to them. And of course the Lions finished things off with a rousing song too!
Bavarian Evening - Saturday 23 November
Zebon Community Centre, Danvers Drive, Church Crookham GU52 0ZE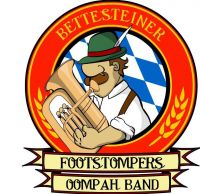 Loads of you joined us for a fantastic evening of German themed entertainment from the Bettesteiner Footstompers Oompah Band. It was all a bit crazy and you raised a tidy sum that we will use to help others. Thanks for coming. And ta to the Verne chippy for the grub! And next year's will be 24 Oktober, 2020.
Fleet Lions Firework Fiesta - 2 November 2019
WE DIDN'T LET A DROP OF RAIN SPOIL OUR FABULOUS SHOW but it made it hard work for us!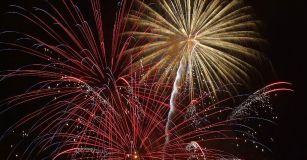 Thanks folks for turning out to our fireworks on such a manky night. Over 4000 of you did. The weather gave us a lot of problems so apologies for a late start. And also for the funny ending of the display – the wind broke our 'goodnight' to you. Hopefully better weather next year and we'll see you then.
Prostate Cancer Screening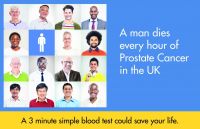 250 of you came along and had a PSA test carried out on 19 September 2019. Hopefully we will have saved some lives. The event costs around £20 pp to put on and donations through our website or by sending us a cheque will be used to fund further screening events. Click here for some very personal feedback about why this project is so important.
Across the country the Lions have now tested 136,000 men!
Fleet Lions 13th Beerfest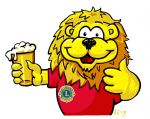 Saturday 3rd August 2019
Thanx to all of you who came along ... and thanx to all our helpers too. What a great job the bands and food franchises and gin bar did. We all had a great time and made best part of £11k for good causes like RNIB, the Macular Society and Hampshire Search & Rescue. See you on 1 August 2020! And thanks to fleethants.com for their video to give you a flavour of the day. Sadly we've lost our sponsor, the Hammerpot Brewery, as they're closing. They've been good friends to us for many years so we wish everyone who's worked there all the best for their future.
Diabetes: Know Your Risk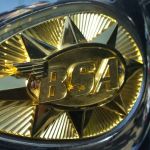 36th Classic Motorcycle Run and Concours
Monday 6th May 2019 - Key Car Park, Elvetham Heath, Fleet, Hampshire GU51 1HA.
240 bikes came along! Many thanks to you all and the public who came too. More details here...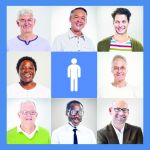 Prostate Screening Event
Thursday 2nd May 2019 - Aldershot Centre for Health, Hospital Hill, Aldershot GU11 1AY.
Prostate cancer is one of the biggest killers of men over 45 in the UK. One man dies every hour in the UK and early treatment saves lives. We ran this event in conjunction with Aldershot Lions Club and screened nearly 150 men.

Diabetes: Know Your Risk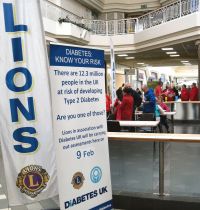 We saw nearly 100 of you at the Hart Shopping Centre on 9 February & did some detailed checks without testing bloods. Quite a few people fell into the moderate and high risk groups & were given referral letters for their GP for more detailed medical assessment. Everyone was given leaflets targeted at their risk profile on what actions they should and could do to reduce the chances of developing this crippling condition. Click here for more details about diabetes.
Good King Wenceslas Project 2018/19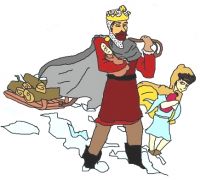 Use your annual Winter Fuel Allowance to help a local family in fuel poverty. We will hold it in a fund, vet & pay fuel charges for local families that are in debt to their energy supplier suppliers. More details here. Click here for how to make your donation.
Santa's visit to Fleet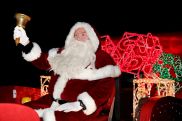 We met some lovely people when we were out and about helping Santa this year. Apologies to those of you who thought Santa and his Lion Snowmen would be visiting you on Saturday 22 and Sunday 23 Dec when his sleigh was bust!. Thanks to Elf Phill Gower for fixing it. And thanks for your understanding and generosity.
Carol Concert, Wednesday 5th December

We entertained over 200 older folks at our event this year. We had some amazing entertainment from BEGINNERS ON STAGE - a fabulous group of young people from our local drama school, SHUFFLE TUNES - who were much, much more than a choir & the ELVETHAM COMMUNITY CHOIR were brilliant too. And many thanks to MORRISONS for letting us use their overflow car park.
Bavarian Evening, Friday 23rd November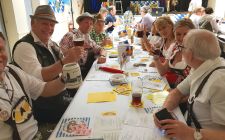 And a fabulous night was had by all!. The brilliant Bettesteiner Footstompers Oompah Band were back with us again and certainly made things go with ein voller Erfolg sein.
Thanks for coming to our Firework Fiesta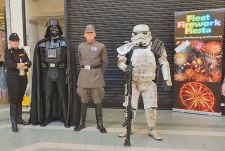 Over 7000 of you joined us to enjoy over £6000 of fireworks, lots of good food and drinks, and had your fireworks party with us. The Star Wars guys had a great time too!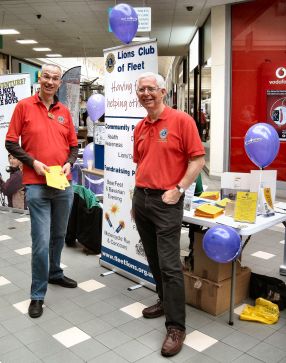 It was great to meet you!
Arie and Richard were ready for a chat. If you didn't catch them then send us an email to membership@fleetlions.org.uk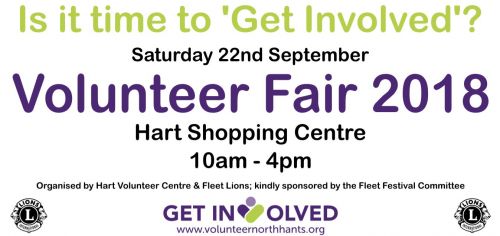 Meet (and join?) the volunteers of Fleet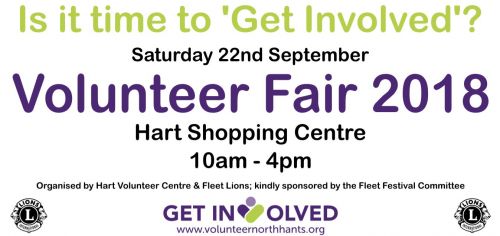 Do you enjoy being part of this great community? Want to know more how to help keep it great ? Join Fleet Lions and HVA and so many local groups from community service, scouts, environment etc. who rely on volunteers to make the town a great place to live.
Come and talk to the Lions. We'd like to find more members but also people who just want to help at the events we organise for the people of Fleet.
12th Night Beerfest on Saturday 4th August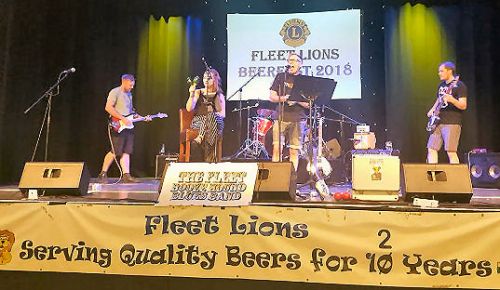 What a fabulous day! Over 900 of you came and drank over 3500 pints of 44 beers + ciders. That has raised over £10,000 for charitable purposes. Silent Pool gin seemed to slip down well too. + great music and food. So Sebastian's Action Trust & Hampshire Search & Rescue went home with a nice cheque.
No.13 WILL BE ON 3 AUGUST 2019, SO PUT IT IN YOUR DIARIES.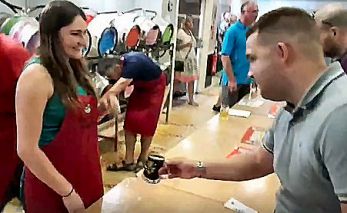 Prostate Screening
We organised another screening event on 17 July at Fleet Hospital. It was for men over 45 who have not had a PSA test before. We screened 247 men. Thanks to those who helped and those who came along.
Donations towards the next event can be made at : mydonate
Lions Den : 2018 Successful Applicants
The successful applicants to this year's Lions' Den received donations totalling £9,645. Pictured are some of the grant winners with 2017/18 Fleet Lions President, Lion James Powell. They included the 101st Scout Group, Hart Voluntary Action, four local scouts, the Live at Home Scheme, Fleet and Church Crookham Community First Responders, CLIC Sargent, Church Crookham and Fleet Mens' Shed, local person proposing to raise funds for the Royal British Legion, Basingbourne Park, Fleet Town Football Club. We congratulate them all.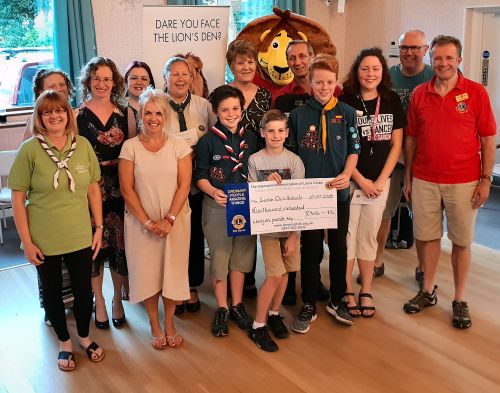 35th Motorcycle Run and Concours : May 7th 2018
What a fabulous day we all had - and over 250 amazing machines to be admired. Thanks for coming and allowing us to raise funds for the Phyllis Tuckwell Hospice and Fleet & Church Crookham First Responders. See some photos from the day taken by Lion Paulo Silva.
Fleet Lions celebrates a 'Century of Service' at Buckingham Palace
The Countess of Wessex G.C.V.O. as Patron of Lions Clubs of the British Isles held a Royal Reception at Buckingham Palace on Wednesday, 28th February to celebrate a 'Century of Service'. HRH has been its Patron since 2004.
Our President James Powell joined in the 100th Birthday celebrations with hundreds of volunteers who came together with the organisations' partners for this special occasion.
Lion Phil Nathan MBE, Chair of the Centenary Celebrations for Lions Clubs of the British Isles said "Let me begin by saying that during our 1st Century of service, Lions Clubs have touched millions of lives of people that needed us. 100 years of service to the community is a remarkable achievement, made possible by the selfless actions of many thousands of individual men and women, each of whom has sought to make 'their' community a better place. As we enter our 2nd Century, the cry for help from those in need will most certainly become louder and we as volunteers are ready to show as Lions, We Care".
Lions Clubs International focusses through its Lions and Leos members upon major projects that address diabetes, youth, the environment, hunger relief, childhood cancer and sight issues affecting communities throughout the world. And of course Fleet Lions do our best to serve our local community too.

Library display of our history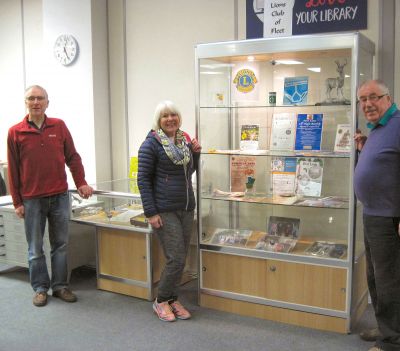 Fleet Lions go public! A big thank you to Fleet and Crookham Local History Group for letting us use their display cabinets on the top floor of the Library. Particularly to Colin for making it all look very professional. A chance to find out a bit about the history of Fleet Lions, why we serve, what we do, artefacts, awards and how to get involved. Do take a look!

[Photo by Lion Jim Storey shows Lion Pete Pickett, prospective Lion Marilyn and Lion
Graham Drayton]
An MJF for Elvis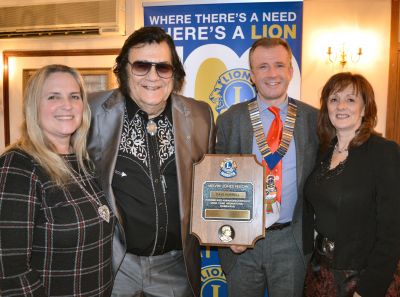 At a recent luncheon, the Lions Club of Fleet surprised 'Elvis' by honouring him for his years of charity work in the local area. It was a total surprise for Dave Hurrell aka Dale Fontaine when the Lions presented him with a Melvin Jones Fellowship – the highest award within the Lions Clubs International movement. For decades, Dave has performed his Elvis Presley appreciation act at dozens of venues for the benefit of numerous local causes including our own FunFest. He's raised thousands of pounds for charities in North Hampshire and Surrey.

[Photo by Lion Graham Drayton shows Dee & Dave Hurrell, President James Powell & Lion Allison Andrews]
Santa has put his feet up for another year!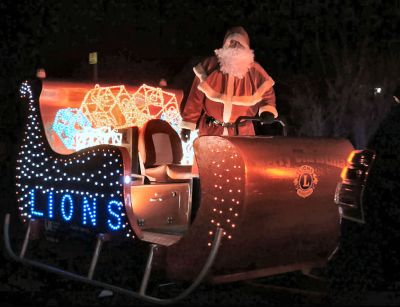 In December our Christmas Float toured the streets of Fleet and Church Crookham and gave pleasure to hundreds of young and old alike. And the amazing news is that our generous residents donated the best part of £7000 that we and our friends from Hart Lions can use to help others. Our thanks also go to a number of cheerful 'Friends of Fleet Lions' without whom we would not have been able to operate. A particularly big thank you too to our Vice President Kevin who stabled, fed and watered our reindeer every night!
Christmas food parcels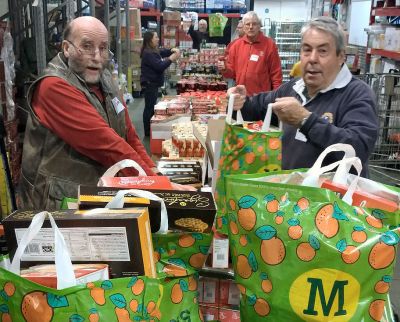 This year we had a lively morning in the storeroom at Morrisons where we packed 120 food parcels. They have all been delivered now and hopefully will help some local people have a bit better Christmas. A big thanks to all the staff at Morrisons for managing to avoid being tripped up by us!
Christmas Concert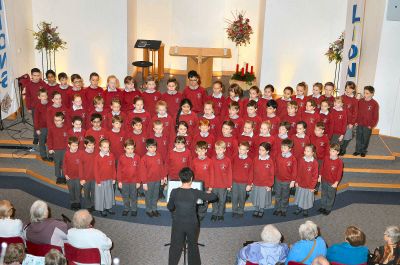 What a fabulous evening we and 300 of our older residents had on 6 December at the Church on the Heath. We were all entertained by choirs from the Grey House School, Hartley Wintney, the Elvetham Community Choir, the Church on the Heath Gospel choir; as well as bubbles of fun with Caroline, Jenny and Sarah who are "Champagne at the Blitz". See some photos from the event
---
21st August 2014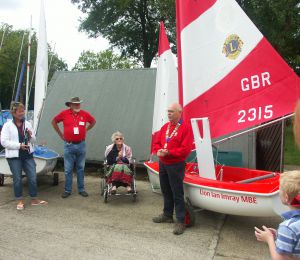 Fair winds for the Lion Ian Imray MBE
Sailability's new boat at Frensham Pond has been named in honour of a dear departed Fleet Lion, Past District Governor Lion Ian Imray MBE.
Members of the Imray family, led by Ian's widow Joy, gathered at Frensham Pond, Surrey to launch the new sailing dingy named Lion Ian Imray MBE. The Hansa 303 was bought with funds raised by Fleet Lions and will be used by disabled people who wish to sail.
Sailability's Chair, Kate Richardson opened the ceremony and thanked Fleet Lions for their generous donation and went on to explain Sailability's aims. "Through the Royal Yachting Association's Sailability, over 40,000 young people and adults with disabilities are introduced to sailing each year and many go on to sail on a regular basis. Sailing is one of the few sports in which able-bodied and disabled sailors can participate on equal terms."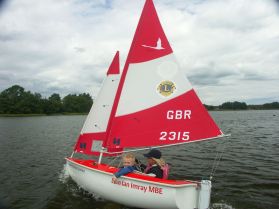 Fleet's 2013-14 President Lion Julian Behmber was instrumental in bringing this project to fruition and joined this year's Fleet President Lion Paul Doughty in paying tribute to PDG Lion Ian Imray MBE. Paul explained that PDG Ian had been a keen sailor in Zimbabwe where he and Joy and their family had lived until 2006.
Joy blessed the boat with a bottle of bubbly and it was then launched to much applause. Joy was especially delighted that her 7 year old Great Grandson Evan was the first to sail her thanks to Bridget one of Sailability's instructors.
Many thanks to Sailability's Tony Machen for making this video.
See some more photos on our Gallery...