News from Fleet Lions
Latest Newsletter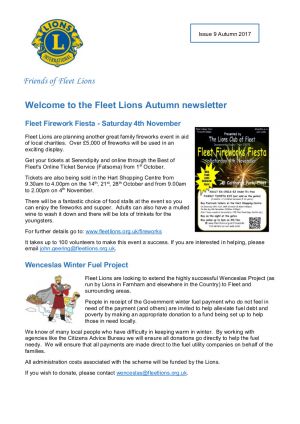 Latest newsletter [PDF]
Santa has put his feet up for another year!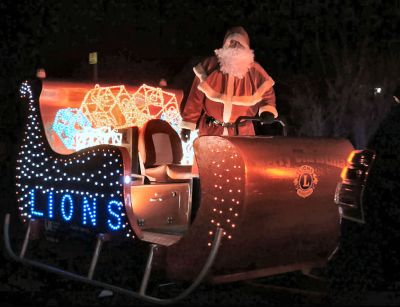 In December our Christmas Float toured the streets of Fleet and Church Crookham and gave pleasure to hundreds of young and old alike. And the amazing news is that our generous residents donated the best part of £7000 that we and our friends from Hart Lions can use to help others. Our thanks also go to a number of cheerful 'Friends of Fleet Lions' without whom we would not have been able to operate. A particularly big thank you too to our Vice President Kevin who stabled, fed and watered our reindeer every night!
Christmas food parcels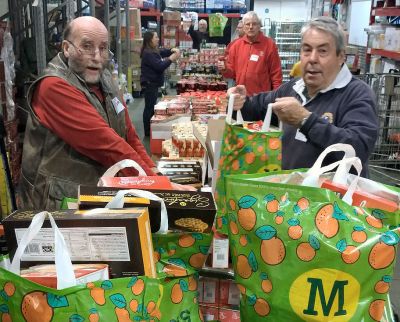 This year we had a lively morning in the storeroom at Morrisons where we packed 120 food parcels. They have all been delivered now and hopefully will help some local people have a bit better Christmas. A big thanks to all the staff at Morrisons for managing to avoid being tripped up by us!
Christmas Concert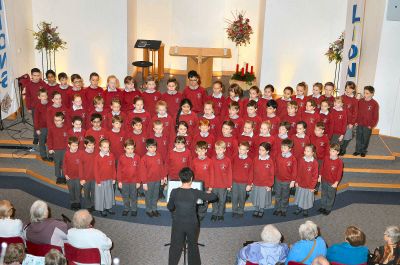 What a fabulous evening we and 300 of our older residents had on 6 December at the Church on the Heath. We were all entertained by choirs from the Grey House School, Hartley Wintney, the Elvetham Community Choir, the Church on the Heath Gospel choir; as well as bubbles of fun with Caroline, Jenny and Sarah who are "Champagne at the Blitz". See some photos from the event
29th June 2016
Fleet "Lion of the Year" award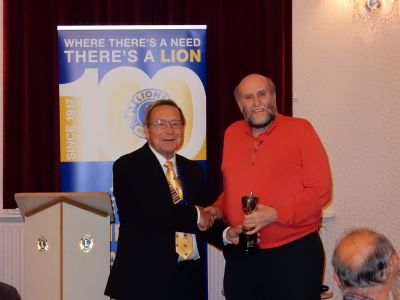 At our 'Handover' ceremony this evening, President Roger Munday awarded "Lion of the Year" to Lion Kevin Williams for his outstanding contribution to the club especially relating to the management of our equipment store. Congratulations Kevin, well deserved!
---
11th May 2016
Fleet Lions gains a new member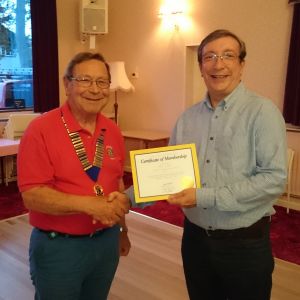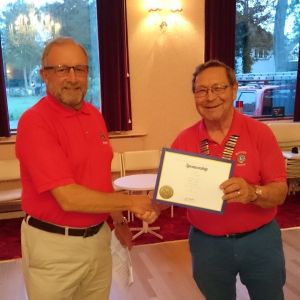 Lion President Roger Munday inducted new Lion Mark Cooper to the family of Lions Clubs International at a short ceremony prior to our monthly Business Meeting. Mark was sponsored by our Membership Secretary Lion Jim Pitkin. [Photos: Lion James Powell]
Long service awards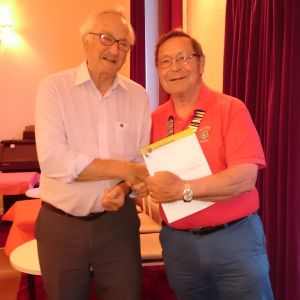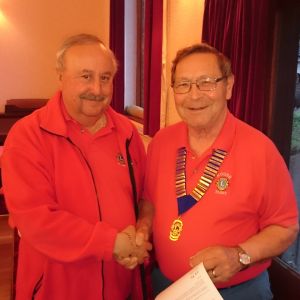 Lion Brian Robinson receiving a 35 year and Lion John Geering receiving a 10 year 'long service award' from Lion President Roger Munday at our business meeting. [Photos: Lion James Powell]
---
10th February 2016
35 Years and counting!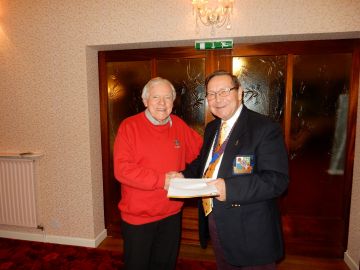 Lion Peter Lipscomb receiving a 35 year 'long service award' and pin badge from President Roger Munday at our business meeting on Wednesday 10th February. Congratulations Peter and thank you for serving the community for all those years!
---
13th December 2015
Lions Christmas Lunch
Peter, Brian and Fred aided and abetted by Travis, entertain Fleet Lions and guests after our Christmas Lunch at the Farnham House Hotel on Sunday.
---
12 August 2015
Lions Den
Those who dared to face the Lions Den and presented solid cases for support, were rewarded with various donations from the Lions Club of Fleet at a special evening session hosted by our president Lion Roger Munday. Handing over 10 cheques, Lion Roger said "It is a pleasure to be able to support such worthwhile local projects run by so many dedicated people!".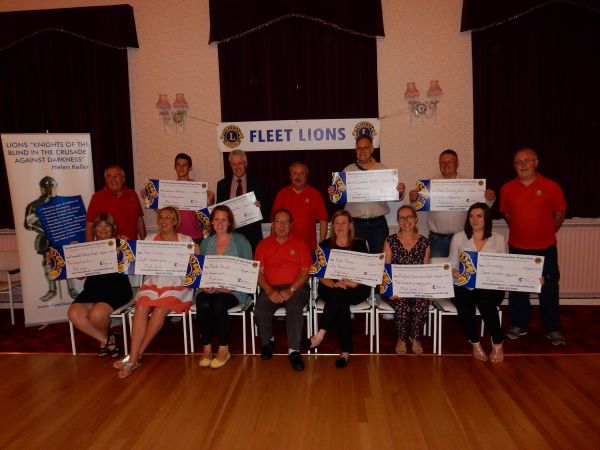 ---
19 April 2015
SpecTrek 2015
Congratulations to Petersfield Lions on an outstanding SpecTrek. A record total of 138,148 pairs of used spectacles have been collected this year for redistributing to needy people all over the world.
Lion Grahame Pullen coordinates the collection for Fleet Lions and is pictured here delivering 4,000 pairs of specs donated by Fleet residents and collected by local opticians and others. [photo:Lion Jim Storey] For more information...
---
21st August 2014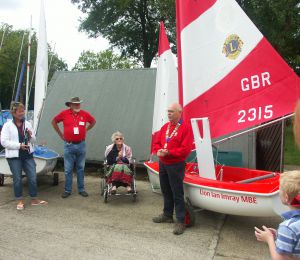 Fair winds for the Lion Ian Imray MBE
Sailability's new boat at Frensham Pond has been named in honour of a dear departed Fleet Lion, Past District Governor Lion Ian Imray MBE.
Members of the Imray family, led by Ian's widow Joy, gathered at Frensham Pond, Surrey to launch the new sailing dingy named Lion Ian Imray MBE. The Hansa 303 was bought with funds raised by Fleet Lions and will be used by disabled people who wish to sail.
Sailability's Chair, Kate Richardson opened the ceremony and thanked Fleet Lions for their generous donation and went on to explain Sailability's aims. "Through the Royal Yachting Association's Sailability, over 40,000 young people and adults with disabilities are introduced to sailing each year and many go on to sail on a regular basis. Sailing is one of the few sports in which able-bodied and disabled sailors can participate on equal terms."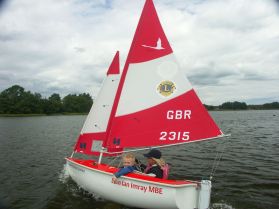 Fleet's 2013-14 President Lion Julian Behmber was instrumental in bringing this project to fruition and joined this year's Fleet President Lion Paul Doughty in paying tribute to PDG Lion Ian Imray MBE. Paul explained that PDG Ian had been a keen sailor in Zimbabwe where he and Joy and their family had lived until 2006.
Joy blessed the boat with a bottle of bubbly and it was then launched to much applause. Joy was especially delighted that her 7 year old Great Grandson Evan was the first to sail her thanks to Bridget one of Sailability's instructors.
Many thanks to Sailability's Tony Machen for making this video.
See some more photos on our Gallery...
For more information see the RYA Sailability website.
---
July 2014
Fleet Lions has a new President
The role of President lasts a year 1 July to 30 June. On Friday 27 June Lion Julian Behmber passed the chain of office to Lion Paul Doughty at a very well attended evening at The Tweseledown pub.
---
Motorcycle Rally
5 May 2014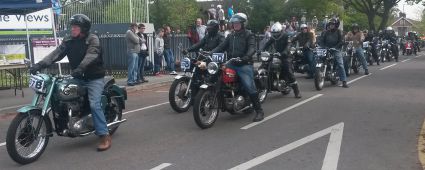 What a beautiful sunny May Bank Holiday for the 31st annual vintage motorcycle rally!
The event takes place annually in the Victoria Road Car Park in Fleet (behind the library) and is for motorcycles built before 1989 - this year's oldest bike was a 1914 New Hudson.
There were 210 entries with some 300 members of the public viewing the bikes in the car park, plus others lining the route through the town.
Most bikes came from within a radius of 40 miles but a few came from further-a-field including Amesbury, Blewbury (Oxfordshire), Hemel Hempstead, Luton, Amersham, and even Newquay!
The Rally Ride-Out is 46 miles through Hampshire and Berkshire countryside with a refreshment break halfway around at Sherfield on Loddon at either the Four Horseshoes or the White Hart.
The winner of the Landlord's Choice trophy, awarded at the pub by publican Scott Miles, went to a 1961 BSA Super Rocket.
Other prizes included:

| | | | |
| --- | --- | --- | --- |
| Shield | Winner | Winning Bike | |
| Dave Kent Shield | Roy Springate | 1939 AJS Silver Streak | |
| Ken Heanes Shield | Ken Robinson | 1951 Norton Model 18 | |
| North Hants Tyres Shield | Keith Jennings | 1963 Honda CB72 | |
| Jack Cooper Shield | Adrian Balchin | 1974 Honda SS50 | |
| ClassicSuperBikes Shield | Kevin Penfold | 1980 Yamaha XT500 | |
| Eric Cheney Shield | Les Human | 1953 Matchless G3LS | |

Funds raised by the event go to local good causes.
Next year's event will take place on Monday, 4th May 2015. Entry forms and more information will be available nearer the time on our Motorcycle Rally web page.

---
18 April 2014
Lions View at Fleet Pond is declared open to visitors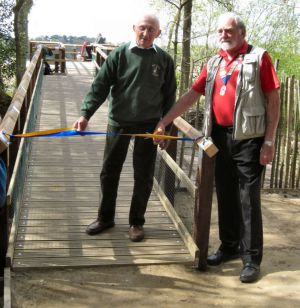 Fleet Lions generous donation to the Fleet Pond Society combined with their active support has helped build a viewing point overlooking the pond.
The new viewing platform is accessible to those with buggies, wheelchairs and mobility scooters. So all visitors can can now enjoy a view across the pond from an area that was not previously accessible.
Whether it's a relaxing walk with the family, birdwatching or fishing take a few minutes to visit the viewing point.
The platform was funded by Fleet Lions, designed and produced by Phil Gower and team at Cove Industries and built by Fleet Pond Society Volunteers and Fleet Lions volunteers.
Fleet Lions President Julian Behmber and
Fleet Pond Chairman Colin Grey
at the opening ceremony for the new viewing point.

---
13 April 2014
Old spectacles recycled
Each year Lions Clubs around the country collect unwanted spectacles. These are then passed on to other Lions Clubs for sorting, grading and onwards transport to the third world.
During the year April 2013-2014 Fleet Lions, Hart Lions and Aldershot Lions collected 3,945.
Many of the spectacles 4 are collected by opticians in Fleet so we are grateful to the local public for donating their unwanted spectacles to us in this way.
Throughout the south of England a grand total of 123,000 unwanted spectacles were collected!
We've already started collecting for next year, so if you have any unwanted spectacles drop them into one of the collecting points in Fleet High Street:
- Specsavers
- Harwoods
- Brown & Whites
- Leightons
---

25 July 2013
A busy month for the new President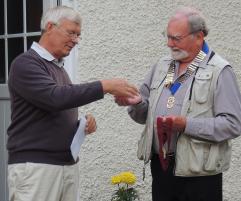 Lion Brian Proctor formally passed over the President's chain of office to Lion Julian Behmber at an informal club meeting attended by wives and partners on a warm summer evening at the start of the month. All Lions' clubs work on a 1st July to 30th June year.
During his first month Lion President Julian has already represented the club at the Aldershot Military Festival lunch and two garden fetes at local nursing and residential homes!
---
30 June 2013
FunFest 2013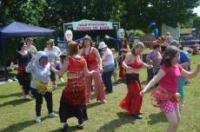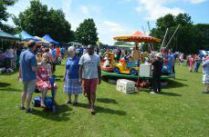 What a fantastic day Sunday 30th June was. Suddenly it was summer and the gazebos, bouncy castles and bunting were out under a bright blue sky. Yes this was the setting for the Lions FunFest.
This event has traditionally been held in Fleet but the time had come to give this event a refreshing make-over and so for the first time it was held at the Yateley School, School Lane Yateley. And what a success it was!
Let this eager Lion reporter remind you just what FunFest is. It is a festival, a funday out for people with disabilities and their families who live in or near our area. It is organised and run by the Lions Clubs of Farnborough, Fleet, Hart, Hook & Odiham, Loddon Valley and Yateley together with Aldershot and Sirius Lions Clubs who are branch clubs of Fleet.
From horse rides to train rides, smashing plates to bungee jumping, from a coconut shy to face painting, from Marching Bands to an Elvis impersonator, it was all there and all free for our 650 friends who so rarely get the opportunity to enjoy these kinds of things in the big world.
Which fairground waits for as long as it takes while a disabled child is carefully helped onto and off a roundabout? FunFest does! Which fete shows a challenged senior how to aim and fire a crossbow? FunFest does! Which festival lets the contestants move closer and closer until they DO win a prize? FunFest does? And who runs FunFest? Local Lions! And who helps pay for this terrific day out for these people and their carers? You do, with your donations to Lions! So thanks, because we couldn't do it for them, without YOU!
Report by Lion Terry Cheesman of Hook & Odiham Lions and photographs by Lion Richard Keeley, Farnborough Lions
---
6 May 2013
Another classic event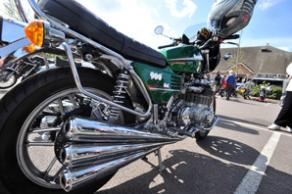 Around 225 riders took part in the Fleet Lions 30th classic motorcycle run and concours on Bank Holiday Monday, Victoria Road Car Park, Fleet.
Last year's event was affected by poor weather, however the sun beamed down on this year's event on 225 bikes and some 300 spectators. Burgers, bacon rolls, tea, coffee, cakes and ice creams provided refreshments druing the morning and afternoon.
There were entries from all over the region, with bikes coming up from as far away as Dorset just to take part.
The first bikes arrived at 8.30am, one rider reported arriving early because his bike started first attempt that morning!
At 11:00am the riders set off for Sherfield-on-Loddon for lunch at the Four Horse Shoes Pub returning at around 2:30pm for prizes giving.
Now in it's 30th year, the event has raised over £52,000 for charity - proceeds from this year's event will go to the Hampshire & Isle of Wight Air Ambulance.
---
21 April 2013
Fleet Pond Society receives award for "Making the World a Better Place"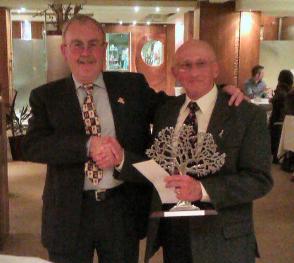 Fleet Pond Society is this year's worthy recipient of the Lions District's Helen Deakin Environment Award. They were nominated by Fleet Lions for their outstanding work for Fleet Pond nature reserve, particularly their Clearwater Campaign. Lion Jim Storey presented the trophy to Colin Gray, the Society's Chairman, at the recent Hart District Council Chairman's fundraising dinner at the WE restaurant. This was accompanied by a cheque for £100.
Lions have run numerous campaigns to help and promote the environment over the years. And many Clubs help their own local environments with cleanups, recycling schemes, conservation tasks and donations of materials. Helen Deakin was a lady who used to get up at five every morning and clean up her local area. The 66 Clubs of Lions District 105D celebrated her dedication by naming the trophy for their £Make the World a Better Place' competition in her honour.
Fleet Pond is Hampshire's largest freshwater lake and it is a Site of Special Scientific Interest. But over the last decade it has silted up badly with material that has washed down from local MoD land. To the extent that it was possible to walk across it with the water hardly coming above your knees. This has meant that there is little life in the lake and so the numbers of insects, birds and wildlife that depend on this have been badly reduced. The Pond Society instigated their Clearwater Campaign to raise awareness of the issue as well as much needed funds to restore the Pond to its former glory. They have raised significant funds themselves with various activities but have also helped lever major sums of money from Hart District Council, Natural England and the Environment Agency. This now amounts to over £600,000 and dredging started in Spring 2012, using silt to create new islands. Wildlife is starting to improve and the number and species of birds being seen has increased already.
---
14 April 2013
Fleet Lions make a major financial commitment to the future of Fleet Pond
The Lions have always supported Fleet Pond Society by helping on conservation tasks and funding things like new tools and brochures - but this is a biggie! We have agreed to pledge up to £12,000 for a new viewing area to be built. We have given various grants over the years to many deserving projects but this is the biggest by far and we believe it will add significant extra enjoyment for the visitors to the Pond.
The Pond Society is keen for a new viewing platform to be constructed to overlook the reedbeds (view map) in the north-east marsh, in the area where float planes used to be tested. It would offer new views across the Pond on the side where there currently aren't many at the moment. Fleet and Sirius Lions have already cleared the vegetation to make a space for it! Our pledge to support the project means a full design and costing can now be done and permissions for its construction can be sought. We'd hope to see the new platform built in the autumn.
---
31 December 2012
Lions President ties the knot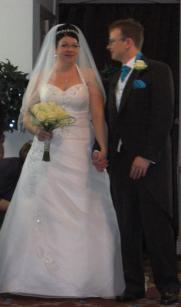 Fleet Lions Sirius Club member President Martin Ashton tied the knot with Emma Manning on 30 December at Frimley Hall Hotel.
Martin and Emma met through their shared hobby of bowling (both play to a very high level). Martin has helped at HYPE disco for many years and so jumped at the chance of being a founding member of the new Sirius Club. Emma, although not a Lion, is a willing helper and has supported Martin with various Lions projects and in his role as club President.
Fleet Lions all wish them well for the future.
---
4 December 2012
Carols to warm up a frosty evening

Some 300 elderly residents from Fleet and surrounding villages enjoyed an evening's carol concert at the Church on the Heath, Elvetham. Private cars, mini-buses and coaches brought the audience on a very frosty evening. The Grey House School Choir opened the show and were followed by First Elvetham Heath Guides led by Guide Leader (and Lion wife) Hannah Moore. The Elvetham Heath Community Choir with the Woodley and Earley Community Choir included favourites such as "Oh Come All Ye Faithful" encouraging the audience to join in.
It was also the evening for the annual outing of the Fleet Lions Cats Choir who entertained the audience, with the help of Father Christmas, singing a hearty "We Wish You a Merry Christmas" - no wonder they don't get many bookings during the year!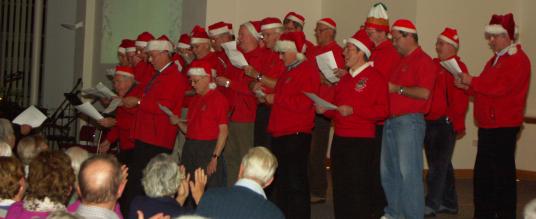 If it's true that nostalgia makes you feel warm then the audience left a lot warmer than they arrived on one of the coldest evenings this winter.
---
1 December 2012
Father Christmas is out and about on a new sleigh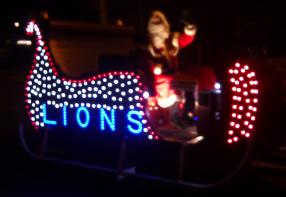 Saturday saw the first outing for the new Lions sleigh.
During the summer and autumn Cove Industries helped a team from Fleet Lions design and build a state-of-the-art sleigh with a rain proof seat (poor Father Christmas had to sit on a wet seat much of last year!), new speakers - with a lovely clear sound, and fabulous LED lights.
The accompanying snowmen have new suits thanks to Heather Bailey and her family of helpers.
All we need now is good weather and warm hearts.
The funds raised during December are used for local good causes including a Christmas Carol concert for the elderley and Christmas hampers for those in need.
See when Father Christmas will be in your area and some lovely drawings to colour over the holidays.
---
24 November 2012
Helping Fleet Pond Society
Lions Mike Collen and Jim Storey from Fleet Lions; Lions Harry Mudd, Martin Ashton and Simon Collen from Sirius Lions; former Fleet Lion Laurie and Peter from the Environment Agency help members of the Fleet Pond Society remove vegetation (and burning it!) to clear space for a new viewpoint to be built at Fleet Pond.
For more information about the Fleet Pond Society please visit their website: www.fleetpondsociety.co.uk
---
21 November 2012
Getting into the Christmas spirit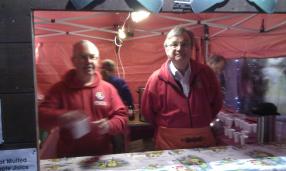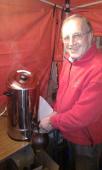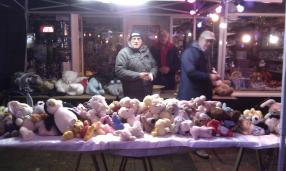 Fleet Lions had two stalls at Fleet Festivities this year.
Lions Brian Coney, David Styler, Gary Dobson, Graham Chenery and Brian Proctor sold raffle tickets for the tombolla stall - where there was a very high ratio of prizes to tickets, so most people left carrying a soft toy.
The mulled wine stall nextdoor was busy all evening with a steady flow of customers. By the close of the evening they had sold over 800 cups of mulled wine and hot spiced apple - around 168 litres and 20 litres respectively.
The proceeds of both stalls go towards Christmas parcels for the elderly in the area.
Many thanks to W C Baker & Son, Hardware, for providing power to lights and urns.
---
20 November 2012
Sailability at Frensham Pond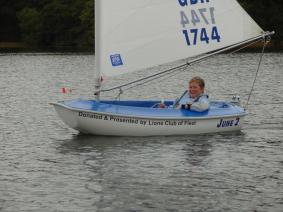 Following the success of this year's Paralympics, Fleet Lions have teamed up with Frensham Pond Sailability to offer youngsters, eight years or older and with a long term disability or illness, the opportunity of sailing taster sessions and the chance of taking up the sport.
Said Fleet Lions Vice President, Lion Julian Behmber, "Although the sailing season is from April through to the end of October, we would like youngsters to contact us now to assess their potential interest. The Lions Club will fund the cost of sailing tester sessions and if the child or teenager then wishes to take up the support, this can be done at a significantly reduced cost through Frensham Pond Sailability on Saturday mornings during school term time and on both Saturday and Thursday mornings during school holidays."
Frensham Pond Sailability which has a range of dinghys from starter to paralympic class boats, offer expert support and tuition with safety cover at all times and the chance of cruising and racing not only at Frensham Ponds but also at other UK sites/events.
For further information, potential applicants should contact Lion Julian Behmber on 01252 819629.
Picture: Alison Grant of Hartley Wintney who became a paraplegic following a car accident caused by a drunken driver. Following experience of sailing the Fleet Lions boat as a novice, she has now moved on to sail more complicated boats at Frensham Pond. Other novice and racing sailors, including those in Sailability's newly formed youth group, continue to make good use of "June 2".
---
1 August 2012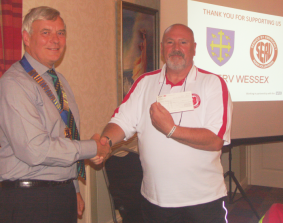 In a busy August business meeting new president Lion Brian Proctor (left) presented a cheque for £1,400 to Regional Co-Ordinator Stuart Graham, MBE of Service by Emergency Rider Volunteers (SERV).
SERV is a registered charity with volunteers transporting blood, plasma, platelets, samples, vaccines and any other urgently required medical items to hospitals at night and at weekends and bank holidays, they are also known as The Blood Runners.
The group came to the notice of the club during the 2011 Dragon's Den event.
The donation will go towards a new bike and a Blood Box carried by the bikes.
For more information about the work done by SERV please visit their websites:
www.serv.org.uk The parent organisation
www.servwessex.org.uk - The Hampshire, Dorset & Wiltshire Division of SERV UK
---
1 August 2012
Two new members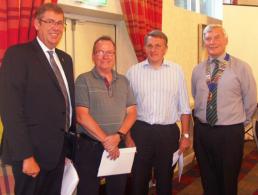 Two new members were welcomed into the Fleet Lions Club at the August business meeting.
The club are always on the look out for new members to help with various fundraising and community projects.
If you would like information on joining a friendly club with a good social calendar please use the Contact Us form or introduce yourself to a Lion at one of our events.
Left to right: Lion Mike Collen, new Lions Keith Manning
and Roger Renshaw and Fleet Lion President Brian Proctor
---
1 July 2012
Meet the new president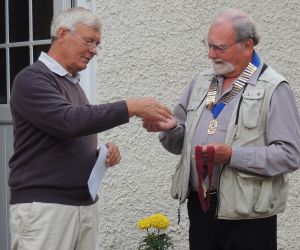 Fleet Lions welcomed in a new president on 1 July. Lion Ken Carter had handed over the chain of office to Lion Brian Proctor on 20 June at a dinner event attended by many club members with their wives and partners.
Lion Brian has been with Fleet Lions since 1977 and has held many roles. He is perhaps best known as the driving force behind FunFest, an annual free event providing a fun day for disabled people of all ages together with their families and carers that has been running for over 20 years. Coordinating the Lions clubs of Aldershot, Farnborough, Fleet, Hart, Hook & Odiham, Loddon Valley and Yateley & District with additional support from around the region is quite a feat and is much appreciated by all those who attend.
The role of president is not new to Brian, during the Lion year July 1999 to June 2000 he took on the role and he is hoping for another successful year 12 years on.
Lion Brian and his partner Jane Jeffares now have a busy year ahead representing the club at dinners, presentations and other events.
Lion Ken Carter (left) and Lion Brian Proctor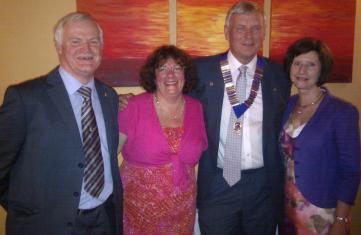 From left to right: Lion Ken Carter, Cherry Carter, Lion Brian Proctor and Jane Jeffares
---
24 June 2012
Great fun at FunFest 2012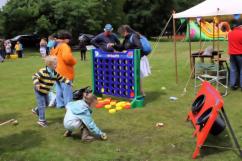 On Sunday 24th June, Calthorpe Park School and the adjacent Hart Leisure Centre played host to the annual fun day for people with disabilities, organised by the Lions Clubs of Aldershot, Farnborough, Fleet, Hart, Hook & Odiham, Loddon Valley and Yateley & District.
The free event which caters for disabled people of all ages and their families and or carers includes a huge variety of activities and welcomed over 720 visitors from the surrounding area.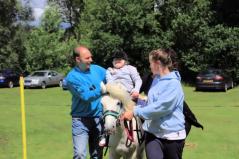 This year's big hits included an inflatable slide, a bouncy castle and a display of Belly Dancing. Elvis was also on hand to keep the music flowing and the 1st Cinque Ports Rifle Volunteers Corps of Drums added a well-received medley of popular tunes.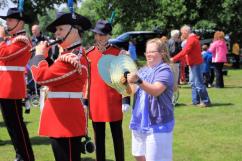 There was a craft table and all the participating Lions Clubs brought along their fun games to entertain our visitors. Also in attendance was the Cuddle-me-do Mobile Farm, where visitors were allowed to stroke goats, sheep, rabbits and various other animals.
Numerous cups of hot and cold beverages together with burgers and hotdogs from the Lions barbecue kept everyone going.
Brian Proctor, Chairman of the Funfest Committee said, "the day was an incredible success everyone, including the Lions, partners and friends, all enjoyed the day and are looking forward to Funfest 2013".
---
12 June 2012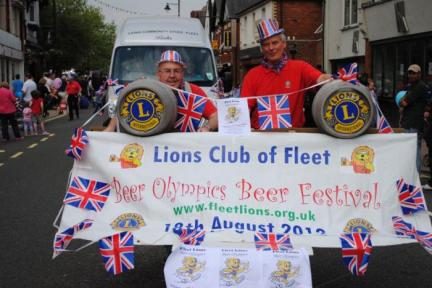 The Carnival Procession on Saturday, 2 June saw Fleet Lions Jim Storey and Brian Proctor pushing a mobile bar promoting the Lions' upcoming BeerFest. Lions Peter Lipsomb and David Styler staggered alongside - under the weight of buckets filled with money donated by the generous crowds rather than lubrication.
Lion partners Jane Jeffares and Frances Lipscomb gamely followed up the rear in a van promoting the Community Store and provided support and encouragement to the weary walkers.
A fun day was had by all.
---
24 May 2012

On Thursday, 24th May Lion President Ken Carter, Vice President Brian Proctor and Lion Travis McCall together with Councillor Sharyn Wheale and Ouida Grant of the Citizens Advice Bureau in Fleet watched presentations from some 11 groups, clubs and individuals hoping for funding for their causes.
This is the third year of the event and was organised again by Lion Graham Drayton.
The Dragons have now retired to confer, funding announcements will be made in early July.
Read more about the Dragons' Den...
---
21 May 2012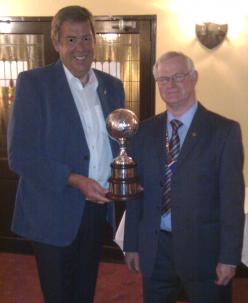 At the recent Multiple District Convention - where Lions from all over United Kingdom and Republic of Ireland meet annually, Past International President Lion Al Brandel presented Fleet Lion Mike Collen with the Bert Mason Memorial Trophy for Services to Youth.
The Bert Mason Memorial Trophy for Services to Youth is awarded to any Lion, Lioness, or Leo who, in the past 12 months, has made an outstanding contribution to work with young people in a Club or District.
The selection is made from the 944 Clubs with some 20,000 members so the award is a significant achievement.
The qualities required for nomination are:
- Enthusiasm for youth projects within their Club and/or District
- Commitment to youth projects within their club and/or District
- Introduced new youth projects to their Club and/or District
- Enthused others to join in with youth projects
- Through youth projects, has spread awareness of Lions in their Community and/or District
- At all times, has shown an affinity with and respect for young people.
Lion Mike Collen is best known for his work with Hype Disco for 11-16 year olds which he has tirelessly supported since it was established over 10 years ago - its rumoured he has attended every single event.

Editor's Note: Well done Mike, this award is well deserved!
---
9 May 2012
SpecTrek
On Sunday, 15 April, Fleet Lions handed over 3,500 pairs of used/unwanted spectacles to SpecTrek organisers Petersfield Lions Club.
Shortly afterwards, Petersfield Lions reported that a grand total of 116,600 pairs of spectacles had been collected plus hearing aids and mobile phones for recycling. This was the 30th year of running SpecTrek and the grand total of spectacles collected by Lions Clubs in the south of England over this period is a staggering 2,440,000.
"Thanks go to all the public who donate their used/unwanted spectacles to us" said the Fleet Lions' SpecTrek co-ordinator, Lion Grahame Pullen, "They are mainly collected in our specially marked collecting bins in four opticians in Fleet - Specsavers, Harwoods, Leightons and Brown & Whites - and Vision Express in Aldershot."
Next year the newly formed Aldershot Lions will collect from Vision Express Aldershot and they are hoping to add more collection points around the town centre.
"The value of these spectacles to those people with impaired sight in Third World Countries cannot be over-emphasised," said Lion Grahame Pullen, and added "participating in SpecTrek must be counted as one of the most worthwhile jobs."
---
27 March 2012
Diabetes Awareness
On Saturday 31st March Fleet Lions will be asking shoppers in the Hart Centre in Fleet whether they have been screened for Diabetes or are aware of the serious side effects this disease has when not controlled such as glaucoma, kidney failure, heart problems or possible gangrene with the loss of lower limbs.
Diabetes can be controlled but detection is required. Fleet Lions Club is working with Lloyds Pharmacy who will be undertaking simple blood tests to check for the condition.
Diabetes is a common life-long health condition. There are 2.9 million people diagnosed with diabetes in the UK and an estimated 850,000 people who have the condition but don't know it.
Everyone is at risk but the largest proportion of those found with diabetes are over 40, are overweight and have little or no exercise regime. There are symptoms which are recognisable by the patient - sudden loss of weight, excessive thirst and the subsequent use of the loo, tiredness and blurred vision, to name but a few.
Diabetes Awareness is a major Lions Clubs project. Lions are also working with Diabetes UK, who publish many and varied leaflets and handouts giving details of who is at risk, how to deal with diabetes without letting it disrupting your life, diet, travel and driving.
Said Fleet Lions Club President, Lion Ken Carter "Between the three organisations, Lions Clubs, Lloyds Pharmacy and Diabetes UK, we can work together to find possible diabetics and guide them in the right direction to be treated and avoid the side effects mentioned above."
Read more about Diabetes Awareness
---
2 February 2012
Aldershot Lions Officially Recognised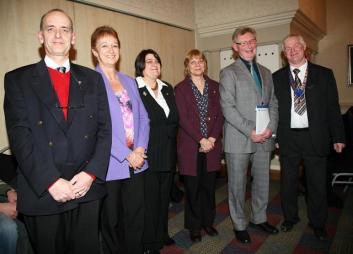 Aldershot Lions have received official recognition from Lions Clubs International on the Club's founding members being formally inducted as a branch of Fleet Lions. The ceremony was held at the Lismoyne Hotel, Fleet at the beginning of February in front of Lions representing the sponsoring Clubs of Hart, Hook and Odiham, Farnborough and Fleet Lions as well as Farnham Lions and Lions dignitaries from across the region.
Said Fleet Lion President, Ken Carter, "Aldershot has been part of the Fleet Lions' area for the past 38 years. We have sought on a number of occasions to establish a separate club in Aldershot and are pleased that this now looks likely with the setting up of a Club Branch in Aldershot. Once the Branch reaches 20 members it will be chartered as a Lions Club in its own right."
The founding members of Aldershot Lions badged up at the meeting include the new Club's inaugural President, Ian Hambleton and the current Mayor of Rushmoor, Cllr Alex Crawford.
Said Cllr Crawford, "it is important that service minded people in the area are encouraged to join Aldershot Lions which, as part of the world's largest service organisation, has outstanding potential for community service." People interested in joining Aldershot Lions should contact Lion Grahame Chenery on 01252 617033.
Fleet Lions are also looking to attract new members and the Club is holding an open evening on Wednesday 7th March at the Lismoyne Hotel, Fleet. Further details can be obtained from Lion Mike Collen on 01252 614086.
Pictured are Aldershot Lion President Ian Hambleton, Lion Carol Cross, Lion Carole Hambleton, Lion Janet Jones and Lion Alex Crawford together with Fleet Club's President, Lion Ken Carter

Find our more information on Aldershot Lions...