---
6500 of you came and joined us for a great night out
These were our plans:
The weather might not be looking anything special at the moment but it won't stop the Lions fireworks team putting on an incredible display. Come and enjoy our fabulous fireworks display. At the Lions marquee you can buy burgers and hotdogs, get fibre optic and LED toys for the kiddies and the grown ups can sample our tasty Lions Glühwein (mulled wine).
This year your local Fleet organisations and businesses will also provide food and drink:
Our friends at Fleet Phoenix are serving hot and cold drinks
The Hot Oven Bakers Corner will serve samosas, pasties and sausage rolls
Returning again the 29th Odiham Scouts will be providing camp fire sweet treats - S'Mores n'More - including toasted s'mores, candy floss, popcorn, sweet cones and cinder toffee.
Muncheon Luncheon will serve chicken and pulled pork
Caleb's coffee will be open as usual at the old pavilion for coffee and hot drinks.
Thanks to Hart District Council there will be FREE parking in Victoria Road car park from 4pm to 8pm. Gates open 5pm - Fireworks Show starts approximately 6:30pm. Please note the Merivale entrance to the park CLOSES AT 6.15PM as the Bakers Way footpath is in the firing zone.
Thanks to Fleet Town Football Club (https://fleettownfc.co.uk), Parking for Blue-Badge holders will be at their grounds off the Crookham Road.
Local Infant & Junior Schools will receive a donation for their help promoting our event.
---
To provide a safe and comfortable evening for all, attendance will be limited to 6,500 guests, an increase on 2022.
Tickets are £7 per adult, £3 per child (5-15 inclusive), £17 per family (2 adults and 2 children 5-15 inclusive). Children under 5 are free and do not need a ticket. A £1.20 booking fee applies to your order.
If you don't have on-line access and need tickets, read on.

We will be promoting the event in Fleet on 3 Saturdays in October:
14th October in Gurkha Square
21st and 28th October in the Hart Shopping Centre
We will be there from 10am to 3pm, we can take payment in cash or card and will send your E-tickets to you. Please note, the on-line booking fee of £1.20 per order still applies to tickets raised this way.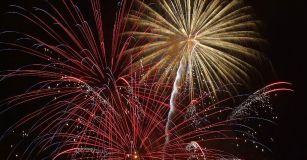 This is the biggest event we stage in the year and we get lots of good reports from you through Facebook and Twitter. And thanks too to all our friends who come along and help us run this event for you raising many thousands for local good causes.
See the 2017 Fleet News and Mail photos by clicking here
See a video of our 2015 show by clicking here
---
Calthorpe Park is a DRONE FREE area during the event
---
The small print - terms and conditions:
Your safety is really important to us, so the following items are not permitted on the park during the Fireworks event:
glass bottles, flasks, containers or any other form of glass
any item which could be used as a weapon (including sharp or pointed objects, such as knives)
items with an open flame (for example, candles, barbecues, gas or paraffin lamps, sky lanterns, camp fires, and gas fires)
fireworks (including sparklers)
laser pens or laser equipment
illegal substances
drones
chairs or tables (except wheelchairs/pushchairs/buggies) are not permitted in the viewing areas.
due to the nature of this event, animals are not allowed into the viewing areas. The event is unsuitable for assistance dogs.
bicycles are not allowed into the viewing areas.
We reserve the right to remove any item that might cause danger, be a health and safety risk, isn't suitable to be taken into an event, or is on the list of things not allowed into the ticketed area.
Anyone found with illegal substances or contraband goods will be removed from the viewing area and may be prosecuted. Any items found that may be used in an illegal or offensive manner will be taken away, regardless of whether the item itself is illegal. Your ticket will not be refunded if you are removed from the viewing area.
---
Our thanks to our main sponsors:

HART SHOPPING CENTRE Fleet's premier shopping centre www.hartshopping.co.uk