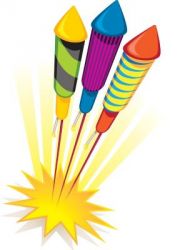 FLEET LIONS
FIREWORK FIESTA
IS BACK!!
As long as there are no Government restrictions that would prevent the show,
we are planning to run the event safely and Covid secure on
Saturday 6th November 2021
@ Calthorpe Park, GU51 4AD
---
---
THERE ARE A LOT OF CHANGES TO THE EVENT THIS YEAR, PLEASE NOTE:
*** UPDATE 22/10/2021 ***
In order that the show can be run safely if there are Covid restrictions, we have reduced ticket sales to 3,900 guests in line with the latest Government COVID Plan B guidance. We normally have over 6,000 guests, so buy your tickets early to avoid disappointment.
Ticket sales are ON-LINE only which can provide track and trace if needed - please see below.
There will be NO TICKET SALES at the gates.
So that we can safely manage queuing, food & drink will only be provided by Fleet Lions club and Fleet Phoenix, where all sales will be card/contactless - please NO CASH.
We want you to enjoy a fun and safe event, so please observe this COVID SAFETY guidance;
there will be hand sanitiser at the marquee, at the toilets both hand sanitiser and disinfectant sprays in the pavilion toilets.
if you are able, please wear masks when using the pavilion toilets.
a queuing system will be operated at the marquee, please respect the barriers.
please keep your distance from others and follow the instructions of the stewards.
Don't forget to enjoy the night,
we're delighted to be back!!
ONLINE TICKET SALES ONLY - ON SALE NOW
We will be selling tickets online until 2:00pm on November 6th, or until the maximum attendance is reached!
Ticket prices are unchanged from last time:

£17 for a family - 2 Adults + 2 Children (5-16 years)
£3 for a child (5-16 years)
Under 5's free (they do not need a ticket)
£7 for an Adult
There is a booking fee (£1.20) applied to each transaction (not each ticket)
We will be promoting ticket sales at the Hart Shopping Centre:
On Saturdays 16th, 23rd, 30th October (10.00am-4.00pm)
Cancellation
If we have to cancel the event (due to Covid or otherwise), a full refund will be available through the online ticket platform.
Off-line Ticket Sales
Sadly we have had to stop offline ticket sales from this year. In order to manage the attendance at the event we have to be able to control the number of tickets we sell, doing this both on and off line is not practical.
The Lions will be in Hart Shopping Centre (one of our sponsors) over three Saturdays in October to promote the event. If you don't have online access, we will be able to raise tickets for you.
---
So here's the event in detail!
We plan another great evening for you with a spectacular fireworks display. From our Lions marquee there will be great burgers and hotdogs, trinkets (LED toys) for the kiddies and tasty Lions Glühwein for the grown ups. Our friends at Fleet Phoenix are serving hot and cold drinks. Thanks to Hart District Council there will be FREE parking off Harlington Way 4pm - 9pm. Gates open 5pm - Fireworks Show starts approximately 6.30pm.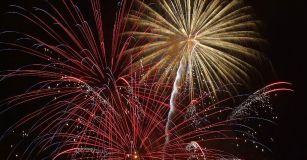 This is the biggest event we stage in the year and we get lots of good reports from you through Facebook and Twitter. And thanks too to all our friends who come along and help us run this event for you raising many thousands for local good causes.
See the 2017 Fleet News and Mail photos by clicking here
See a video of our 2015 show by clicking here
Join in the fun, get your glow sticks, fibre optic & LED toys, on sale in the marquee
Pick up our leaflet with details and a plan on the back
Local Infant & Junior Schools will be given a donation for exhibiting our poster and promoting the event.
Calthorpe Park is a DRONE FREE area during the event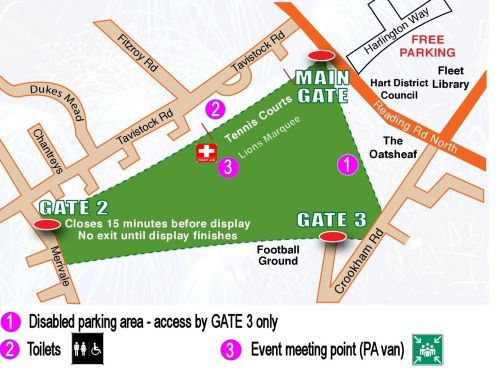 ---
The small print - terms and conditions:
Your safety is really important to us, so the following items are not permitted on the park during the Fireworks event:
glass bottles, flasks, containers or any other form of glass
any item which could be used as a weapon (including sharp or pointed objects, such as knives)
items with an open flame (for example, candles, barbecues, gas or paraffin lamps, sky lanterns, camp fires, and gas fires)
fireworks (including sparklers)
laser pens or laser equipment
illegal substances
drones
chairs or tables (except wheelchairs/pushchairs/buggies) are not permitted in the viewing areas.
due to the nature of this event, animals are not allowed into the viewing areas. The event is unsuitable for assistance dogs.
bicycles are not allowed into the viewing areas.
We reserve the right to remove any item that might cause danger, be a health and safety risk, isn't suitable to be taken into an event, or is on the list of things not allowed into the ticketed area.
Anyone found with illegal substances or contraband goods will be removed from the viewing area and may be prosecuted. Any items found that may be used in an illegal or offensive manner will be taken away, regardless of whether the item itself is illegal. Your ticket will not be refunded if you are removed from the viewing area.
---
Our thanks to our main sponsors:

SERENDIPITY Antiques & Gifts with Tearoom www.serendipityonline.co.uk

HART SHOPPING CENTRE Fleet's premier shopping centre www.hartshopping.co.uk