Fleet Firework Fiesta 2016 will be on Saturday 5th November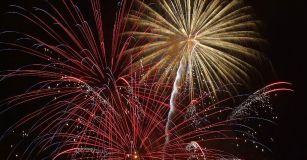 We are planning another great evening for all the family at Calthorpe Park, Reading Road North GU51 4HR (not the school). There will be a grand firework display, entertainers, food stalls, Glühwein and a sumptuous BBQ! Don't miss it!
Gates open at 5pm with the show set to start around 6:30pm, when the sky will be lit-up with an exciting £5,000 display!
NEW! On-line ticket purchase
To purchase tickets on-line, please follow this link to Fatsoma - purchase from the comfort of your home and be able to use our fast-track gate in Reading Road North. PLEASE NOTE THIS WILL CLOSE AT 12 NOON ON THE DAY!
Ticket pricing and availability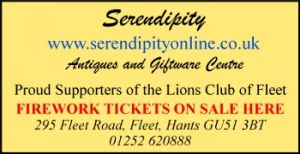 Discounted tickets are priced at £15 for a family (2 Adults & 2 Children 5yrs - 16yrs under go free) and guarantees fast-track entry! They are available on-line and from Serendipity in the High Street - opposite Gurkha Square. Adult tickets are £6 and Child £3 - buy early to save queuing.
Additionally, Fleet Lions will be selling Family fast-track tickets in the Hart Centre on Saturdays 15th, 22nd and 29th of October between 9:30am and 4pm. They will also be available on the day up to 2pm.
Tickets bought at the event will be full priced Adult tickets and Child tickets only but entry could be slow due to queuing - buy your tickets in advance to avoid delays!
Are you able to help us to put on this event? Please get in touch with us via the Contact Us page.
TICKET SALES - There will be a promotion through Infant & Junior Schools where some of the ticket value will be given to the participating schools. Posters will be distributed to each school showing a unique code which should be quoted when purchasing tickets. Please remember to say which code applies to your child.
Calthorpe Park is a DRONE FREE area on the 5th November
So what food is available during the evening?
Lions Finest Burgers & Hot Dogs - locally sourced produce from Clark Butchers
Lions famous Glühwein - (mulled wine) to warm you up!
Sweets stall
Soup, teas & coffees
Fish 'n' Chips
South African foods
Nepalese food - for the more adventurous!
Eat the Street - will be serving smoky BBQ pulled pork and spicy Texan pulled beef! See http://eatthestreet.co.uk/
Hog Roast - You can't beat the flavour of the meat slow roasted over charcoal! See http://www.matt-hogroasts.co.uk/
Freshly made Pizzas - Delicious traditional Neapolitan style pizzas using the best locally sourced ingredients, lovingly handmade and cooked in a mobile wood fired oven! See http://www.catchafirepizza.co.uk/
Where are the gates?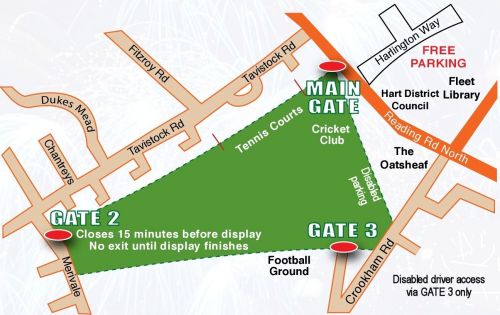 Disabled parking via gate 3
Our thanks to our main website sponsors:

SERENDIPITY Antiques & Gifts with Tearoom www.serendipityonline.co.uk

HART SHOPPING CENTRE Fleet's premier shopping centre www.hartshopping.co.uk