Next Fleet Firework Fiesta in 2017 will be on Saturday 4th November
Ticket arrangements will be the same - So start looking forward to it but meanwhile Enjoy the Summer!!
Fleet Firework Fiesta 2016 was on 5th November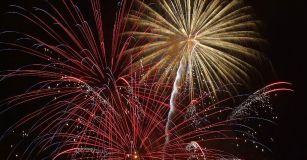 What a great evening for all the family at Calthorpe Park, Reading Road North GU51 4HR (not the school). This was the biggest event we have ever staged and we have had lots of good reports from you, through our Facebook and Twitter.
Nearly 7000 people came!
We have still not worked out how the Moon managed to get in the right position for our finale but it seemed to be all part of the wonderful day weather-wise and entertainment-wise, we had.
NEW! On-line ticket purchase
The Online ticket service organised by Best of Fleet worked well. There was some misunderstanding that the Fatsoma receipt had to be printed as we could scan mobile phone screens (for barcode) on entry so no problems on the Gates.
Off-lineTicket Sales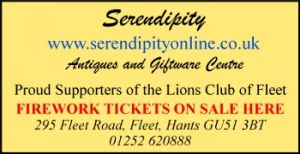 We have to thank Serendipity in the High Street (opposite Gurkha Square) for the work of their staff in being there 7 days a week for everyone to buy tickets. They do this as their sponsorship of the event and we are very grateful to them.
Of course the Lions were in Hart Shopping Centre, the other of our sponsors, over the three Saturdays in October and the day of the event. Thanks to all those who bought tickets from us then and gave us encouragement and a cheery word. Especially all the younger members of our community!!
Are you able to help us to put on this event? Please get in touch with us via the Contact Us page.
There was a promotion through Infant & Junior Schools where some of the ticket value will be given to the participating schools. Posters were distributed to each school showing a unique code which could be quoted when purchasing tickets. WE ARE WORKING ON THE DISCOUNT NOW!
Calthorpe Park was a DRONE FREE area on the 5th November
Thanks to our Food Stalls
Lions Finest Burgers & Hot Dogs - locally sourced produce from Clark Butchers
Lions famous Glühwein - (mulled wine) to warm you up!
Sweets stall
Soup, teas & coffees
Fish 'n' Chips
South African foods
Nepalese food - for the more adventurous!
Eat the Street - will be serving smoky BBQ pulled pork and spicy Texan pulled beef! See http://eatthestreet.co.uk/
Hog Roast - You can't beat the flavour of the meat slow roasted over charcoal! See http://www.matt-hogroasts.co.uk/
Freshly made Pizzas - Delicious traditional Neapolitan style pizzas using the best locally sourced ingredients, lovingly handmade and cooked in a mobile wood fired oven! See http://www.catchafirepizza.co.uk/
Where we were - Thanks to Fleet Town Council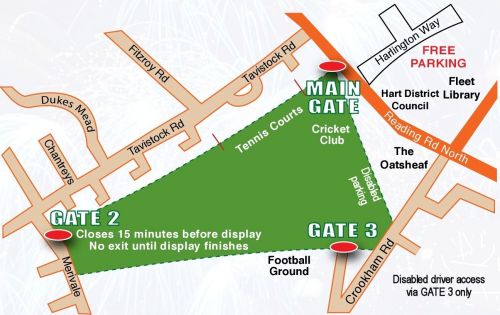 Disabled parking via gate 3
Our thanks to our main sponsors:

SERENDIPITY Antiques & Gifts with Tearoom www.serendipityonline.co.uk

HART SHOPPING CENTRE Fleet's premier shopping centre www.hartshopping.co.uk