***PLEASE NOTE ***
Due to concerns over COVID-19
Fleet Lions Firework Fiesta for 2020 has had to be cancelled.
---
Fleet Lions Firework Fiesta - 2 November 2019
WE DIDN'T LET A DROP OF RAIN SPOIL OUR FABULOUS SHOW but it made it hard work for us!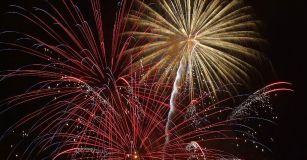 Thanks folks for turning out to our fireworks on such a manky night. Over 4000 of you did and helped us raise over £11,000 for good causes. . The weather gave us a lot of problems so apologies for a late start. And also for the funny ending of the display – the wind broke our 'goodnight' to you. Hopefully better weather next year and we'll see you then.
*************************************************************************************
2019 INFO BELOW
TICKETS ON SALE ONLINE AND FROM SERENDIPITY* FROM 1ST OCTOBER
You will also be able to buy tickets from the Lions at the Hart Shopping Centre:
On Saturdays 17th, 24th, 31st October (9.30am-4.00pm) and on the day, 7th November (9.30am-2.00pm)
* See Serendipity details below
Come and have your firework party with us!
Thousands of you did last year! We plan another great evening for you with a spectacular fireworks display (we're spending over £6000 on them this year) and guest appearances. We have great burgers and dogs from the Lions and lots of other good grub (see below). We'll have trinkets for the kiddies and tasty Lions Glühwein for the grown ups. Thanks to Hart District Council there will be FREE parking off Harlington Way 4pm - 9pm. Gates open 5pm - Fireworks Show approximately 6.30pm.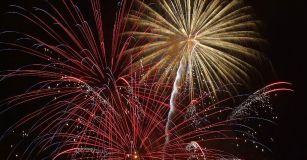 This is the biggest event we stage in the year and we get lots of good reports from you through Facebook and Twitter. And thanks too to all our friends who come along and help us run this event for you.
See last year's Fleet News and Mail photos by clicking here.

See a video of our 2015 show by clicking here.

To keep you safe, PLEASE SEE THE EVENT RESTRICTIONS BELOW.
On-line Ticket Sales
The Online ticket service, organised by Best of Fleet, will be open from 9.00.am 1st October. A new page will open if you click here. We can scan mobile phone screens or a printed copies of the barcode on entry, so no problems on the gates.
Off-lineTicket Sales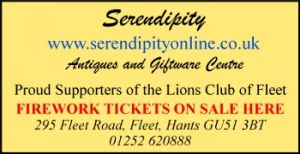 Thanks to Serendipity in the High Street (opposite Gurkha Square) for the work of their staff in being there 7 days a week for everyone to buy tickets. They do this as their sponsorship of the event and we are very grateful to them.
Of course the Lions will be in Hart Shopping Centre, another main sponsor, over the three Saturdays in October and the day of the event. So come and have a chat and buy your tickets from us. We are there:
We will be selling Family Tickets both On-line and Off-line until 2:00pm on November 2nd! (Family tickets not available on the gates)
These tickets are £17 for 2 Adults + 2 Children (5-16 years) Under 5's free
Adult and Child tickets will be available on the gates (not Family tickets) but you may have to queue at the gate.
Join in the fun, get your glow sticks, fibre optic & LED toys, on sale in the marquee
Pick up our leaflet with details and a plan on the back
Calthorpe Park is a DRONE FREE area on the 2 November
Our Food Stalls: (2019)
Lions Finest Burgers & Hot Dogs - locally sourced produce
Lions famous Glühwein - (mulled wine) to warm you up!
Mr Roast Potato with marvellous fillings
Mexican Street Food from Cantina El Borrito
Crepes and American Pancakes
Dorset Market Kitchen - charcoal-fired street food (burgers/steaks)
Soups Teas & Coffees by Fleet Phoenix Youth Charity
Forever Fudge - fudge
Sweets & Candy Floss from Gate Post
Cody Jones - doughnuts
Trinket Stall in the Lions Marquee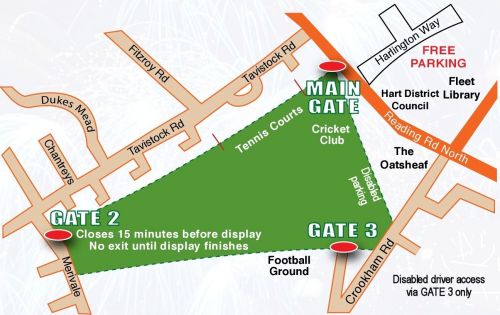 Disabled parking via gate 3
What isn't allowed in the viewing areas?
The following items are not permitted on the park during the Fireworks event:
glass bottles, flasks, containers or any other form of glass
any item which could be used as a weapon (including sharp or pointed objects, such as knives)
items with an open flame (for example, candles, barbeques, gas or paraffin lamps, sky lanterns, camp fires, and gas fires)
fireworks (including sparklers)
laser pens or laser equipment
illegal substances
drones
chairs or tables (except wheelchairs/pushchairs/buggies) are not permitted in the viewing areas.
due to the nature of this event, animals are not allowed into the viewing areas. The event is unsuitable for assistance dogs.
bicycles are not allowed into the viewing areas.
We reserve the right to remove any item that might cause danger, be a health and safety risk, isn't suitable to be taken into an event, or is on the list of things not allowed into the ticketed area.
Anyone found with illegal substances or contraband goods will be removed from the viewing area and may be prosecuted. Any items found that may be used in an illegal or offensive manner will be taken away, regardless of whether the item itself is illegal. Your ticket will not be refunded if you are removed from the viewing area.
Local Infant & Junior Schools will be given a donation for exhibiting our poster and promoting the event.
Our thanks to our main sponsors:

SERENDIPITY Antiques & Gifts with Tearoom www.serendipityonline.co.uk

HART SHOPPING CENTRE Fleet's premier shopping centre www.hartshopping.co.uk