Christmas Float
Our Christmas Float tours the streets of Fleet and Church Crookham each year during December - and the good news is that we're now out and about (see below for when and where)! You'll also see us at the Hart Shopping Centre and outside Morrisons. This joint venture with Hart Lions usually raises over £7,000 for the community. In the evening we usually start touring with the Float at 6pm and finish at 8pm (please check with link below).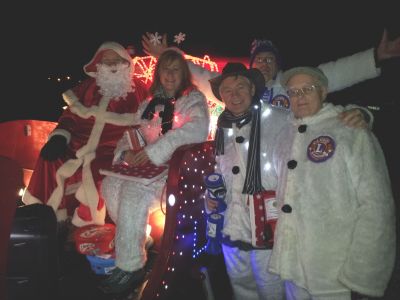 Just as important as the funds we raise, the float gives pleasure to hundreds of young and old alike.
There are a number of cheerful 'Friends of Fleet Lions' without whom, we would not be able to operate. Our thanks to them all.

A big thank you too, for the generosity and good nature of our residents who've been known to say "Now Christmas can start!".
Best wishes for a happy Christmas from all Fleet and Hart Lions and also from Fleet Rotary!
This year our friends in the Rotary Club of Fleet are going to take Santa on their Christmas Float around Fleet to the East of Reading Road. See the Rotary Club routes on their website.
Download a super Santa drawing to colour-in!
Thanks to Alex Speed for these wonderful drawings.