Lions & Friends - book our 50th charter anniversary event on 23 March here
---
LIONS COMMUNITY STORE
RING 01252 616998
THIS IS THE ONLY CONTACT NUMBER FOR THEM
---
Please consider making a donation to help someone struggling with Fuel or Utility Bills.
---
---
Join our mailing list
We produce a quarterly newsletter to help you to keep up with Fleet Lions!
More...
---
To read current and back-issues see the Friends page
---
Join Fleet Lions for Fun and Friendship!
Please contact our
membership team via
the Contact Us form
---
Facebook
What's On
Santa comes to town from 1 December 2023!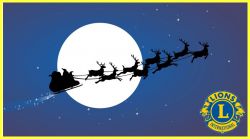 We're planning to do our Santa runs and statics this year as usual - so you may get a knock on your door when we come down your street! AND YOU CAN DONATE HERE. We'll also be outside Morrisons and the Hart Shopping Centre in daylight. The money raised will go towards the massive number of Christmas food parcels we are providing for the needy. For the basic when and where of float routes click here. More details of the routes and a live tracker can be found by clicking here.
The members of Fleet and Hart Lions would like to wish you all
a very happy Christmas.

Fuel and Utilities Project
We are trying to 'help' target where the annual Winter Fuel Allowance money can do the most good. So are your financial circumstances such that you could make a small donation or forego some or all of your annual Winter Fuel Allowance (you'll be getting £500 per household from the Government this year), knowing that by doing so you could help a local family that is suffering from fuel poverty or problems paying their water bill? Full or part Winter Fuel Allowance donations are held in a fund to pay charges for local families that are in debt to their energy suppliers or water utility. More details here.
Do you know of anyone struggling with Fuel or Utility Bills? Please let us know by emailing us at fuel@fleetlions.org.uk.

Christmas Concert, Tuesday 12 December 2023

We are inviting older and more vulnerable people from the Fleet & Church Crookham area to our 2023 Christmas Concert.
This regular concert will take place at the Church on the Heath, Elvetham Heath. Entry is free but by invitation. There will be a wide range of seasonal entertainment and some great raffle prizes too. And the Lions community sing-along at the end. Refreshments will be provided during the evening. 6.45pm for a 7:00pm start. If you want to come along then contact concert@fleetlions.org.uk or ring 07714 002232 / 07503 178143.
Virtual balloon race - our 2nd one has finished
And what a close run thing it was! Many participants celebrated our 50th anniversary and joined in our second Virtual Balloon Race. It's now finished and Lynn Linn's Chewy was the winning balloon that won a £30 Amazon voucher. 50% of the profits will go to our Prostate Screening Programme and 50% will come to Fleet Lions Club. Go to: Environmentally friendly charity fundraising virtual Balloon Race More details @ Fleet Lions - serving the community since 1974 - Virtual Balloon Race
Fireworks Fiesta 2023 - 4 November

Thanks to those of you who came along to make this a sell-out crowd and 1000 more than last year. A great way to celebrate our 50th year of serving Fleet. We have made a tidy sum that we can use to help those who need it. And weren't we lucky with the weather, the fireworks team got soaked clearing up! A big thank you to all our volunteers without whom we couldn't have run this spectacular show. Thanks to Mike Carrington for some great photos on Aldershot, Farnham & Fleet Camera Club Facebook page.
Lions' Charity Advent Calendar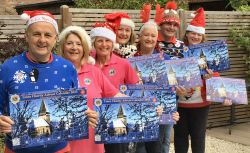 Our local Lions Clubs (Fleet, Hart & Aldershot) were excited to be launching their new fundraising initiative the 'Lions' Charity Advent Calendar'. They were on sale at £5 and there are multiple daily prizes to be won plus a cash prize on Christmas Eve. AND ONLY A DAY TO GO BEFORE THE FIRST PRIZE NUMBERS WILL BE ANNOUNCED ON 1 DEC. check out our website www.lionsadvent.org.uk.
Urgent Appeal for laptops
Donations of working IT equipment are the foundation of our work. We've supplied over 2500 to schoolchildren and Ukrainian families. We are in urgent need of donations of working laptops currently fitted with Windows 7 / 8 / 10 or 11, plus PCs and monitors for us to fulfil current demand. Could your School or Business support us? Devices are wiped with professional software and reloaded with a fresh Microsoft Windows 10/11. Please contact us at it@fleetlions.org.uk.

Here's A GREAT CLIP that describes our project.
Prostate Cancer Screening Session
We held another PSA screening session on 28 October 2023 at The Key Centre. 240 men were tested.
IF YOU COULDN'T GET A TEST THEN SEE BELOW FOR SPONSORED HOME SCREENING TESTS
Home Prostate screening tests - find the missing men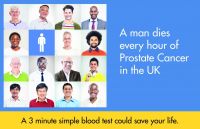 We are sponsoring home testing kits for prostate cancer. Fleet Lions, working with the Graham Fulford Trust are offering Fleet men aged 40 to 70 a simple finger prick test that can be done at home. It'll take 5 mins to follow the simple instructions. Said Lion Brian Proctor, "with one man dying every hour from prostate cancer and 40,000 new cases every year, a home testing kit could be the best gift for life ever. Early detection and treatment may vastly increase chances of survival." To register for a test and Find out more...
Our Bees - we have our own pollinators!
We have now sponsored a honeybee colony. This is just one of our projects to meet the Lions Clubs International environmental objectives.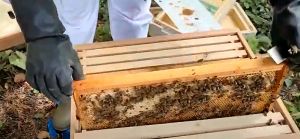 In the first video we transferred the colony into its permanent home but we found that the queen was missing. If we didn't get a queen in there the colony was doomed. What happened next? Watch and see here.
Fleet Lions - fancy joining in?
We're always up to something so those could be new opportunities for you. Perhaps you'd like to join us in helping to serve the local community? Let us know if you're interested by using our contact us facility.
We do lots of things around here, you can see them on our website. Maybe you'd like to try them out and see if you'd like to become a member of Fleet Lions, the largest community service group in Fleet. You'd be most welcome.
We also need people to help us run some of the biggest events for the people of Fleet and neighbouring towns to enjoy. e.g. it takes 120 people to put on the fireworks event. Fleet Lions Volunteer Team are a group of people we can call upon to help us - and join in the fun too. And we give people any training that they need.
Fleet Lions Volunteer Team
We organise some of the biggest events for the people of Fleet and neighbouring towns to enjoy. And quite a few of them need numbers on the day beyond the members of our Club e.g. it takes 120 people to put on the fireworks event. We have a group of people we can call upon to help us - and join in the fun too. So we call them the Fleet Lions Volunteer Team and we'll give people any training that they need. We'd also like to make sure everyone also has a bit of play - not just work. So let us know if you're interested by using our contact us facility. Our Branch Club in Aldershot are also keen to find people who'd like to help them at their events. So please contact them too if you'd like to do that: Aldershot Lions' website.
Young People's Bursaries

Fleet Lions have bursaries to help young people fund their trips abroad to help the less fortunate. Apply to bursaries@fleetlions.org.uk
Message in a Bottle

The Lions Message In a Bottle scheme is a simple idea designed to encourage people to keep their personal and medical details on a standard form and in a common location - the Fridge. See a good descriptive video here. Whilst it is focused on the more vulnerable people in our community, anyone can have an accident at home, so this scheme can benefit anyone, including you. More details here. Contact miab@fleetlions.org.uk if you need one/some.
Who are the Lions?
Lions are the largest community service organisation in the world. We raised over $21 million to help protect tens of millions of children in the world's poorest countries from measles. The men and women of Fleet Lions help local people and organisations where there is need. We organise some of the biggest events in the town to keep you entertained - and we have fun doing so!
Do you have some time to spare?
Please join Fleet Lions Volunteer Team and help us with some of our other projects:
Community Service
Fundraising
or maybe join us for a social evening.
All the help is gratefully received - and hopefully you will enjoy the activity!
Latest News
Read all the latest news about Fleet Lions...
A year in the life of Fleet Lions Club
Our thanks to John Sutton of Clearwater Photography who followed us around for a whole year and then turned what he saw into this fantastic film. Ordinary people doing amazing things!
Meetings
The club normally meets on the second Wednesday of each month at 8:00pm at:

The Grange, Coxheath Road, Fleet GU52 6QR
Why not visit Hart Lions, our sister club in fleet?
If you live in Aldershot, see Aldershot Lions' website.
Our thanks to our main website sponsors:

HART SHOPPING CENTRE Fleet's premier shopping centre www.hartshopping.co.uk