Read our latest Newsletter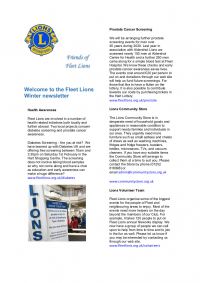 Annual Report
Read our latest annual report
Help us when you buy from Amazon
It would be great if you'd buy via smile.amazon.co.uk and search for Lions to support our work. Same as using main Amazon website, with no cost to you but we get 0.5% of your spend.
Join our mailing list
We produce a quarterly newsletter to help you to keep up with Fleet Lions! More...
To read current and back-issues see the Friends page
Join Fleet Lions for Fun and Fellowship!
Please contact
our membership team: membership@fleetlions.org.uk or via the Contact Us form
Facebook
What's On
Please consider making a donation to help us do more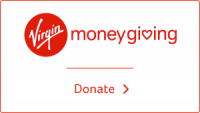 Very sad news
It is with deep sadness that we have to announce the passing of Beverley Allardice MBE, MJF. The manager and stalwart of the hugely successful Lions Community Store since 1995, she was appointed MBE by the Queen in 2002 for her outstanding contribution to the local community and was honoured in 2008 with the Lions MJF award. Often said in these circumstances but never meant more passionately: Bev will be very greatly missed. We're sure you will all join with us in condolences to her family and loved ones.
Classic Motorcycle Run and Concours 8 May 2020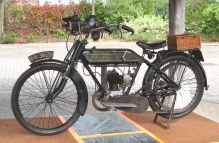 (Please note this Bank Holiday is a FRIDAY.) Our 37th Classic Motorcycle Run and Concours is again at The Key Car Park, Elvetham Heath, Fleet, GU51 1HA. We get several hundred amazing bikes and they all have a fabulous ride out at 11:00am before returning for judging by 2.15pm. So bring your bike along and join them. Or just come and have a look at them. Riders arrive between 9:30am and 10:30am. Hot rolls and drinks will be available. More details here.
Recycled Computers
Fleet Lions have teamed up with other Lions Clubs in the area and as part of the Microsoft Registered Refurbisher scheme are now refurbishing PCs and laptops and donating them with preinstalled Microsoft software to local non-profit organisations, charities, preschools and families in need. Each PC is loaded with an official copy of Windows 10 Pro and a range of free software, including Libre Office. Contact it@fleetlions.org.uk

Who are the Lions?
Lions are the largest community service organisation in the world. We've just raised over £21 million to help protect tens of millions of children in the world's poorest countries from measles. The men and women of Fleet Lions help local people and organisations where there is need. We organise some of the biggest events in the town to keep you entertained - and we have fun doing so!
Young People's Bursaries

Fleet Lions have bursaries to help young people fund their trips abroad to help the less fortunate. Apply to bursaries@fleetlions.org.uk
Lions Community Store Needs Your Help
The Lions Community Store is in desperate need of household goods and appliances in reasonable condition to support needy families and individuals in our area. They urgently need more furniture (especially small settees and chests of drawers), bedding, "white goods" (washing machines, fridges, fridge/freezers) and small electrical goods (toasters, kettles, microwaves, TVs, lamps, vacuum cleaners). If you have any suitable items they will collect them at a time to suit you. Please contact the Store by phone (01252 616998) or e-mail (admin@communitystore.org.uk).
Find out about the Store's work at www.communitystore.org.uk

To contact the Store or for full details of what they do and how they can help you please go to their independent web site here. Fleet Lions are not involved in day-to-day operations and may not pass-on your messages!
Fleet Lions Volunteer Team
We organise some of the biggest events for the people of Fleet and neighbouring towns to enjoy. And quite a few of them need numbers on the day beyond the members of our Club e.g. it takes 120 people to put on the fireworks event. We have a group of people we can call upon to help us - and join in the fun too. So we call them the Fleet Lions Volunteer Team and we'll give people any training that they need. We'd also like to make sure everyone also has a bit of play - not just work. So let us know if you're interested by using our contact us facility. Our Branch Club in Aldershot are also keen to find people who'd like to help them at their events. So please contact them too if you'd like to do that: Aldershot Lions' website.
Do you have some time to spare?
Please join Fleet Lions Volunteer Team and help us with some of our other projects:
Community Service
Fundraising
or maybe join us for a social evening.
All the help is gratefully received - and hopefully you will enjoy the activity!
Message in a Bottle

The Lions Message In a Bottle scheme is a simple idea designed to encourage people to keep their personal and medical details on a standard form and in a common location - the Fridge. Whilst it is focused on the more vulnerable people in our community, anyone can have an accident at home, so this scheme can benefit anyone, including you. More details here. Contact miab@fleetlions.org.uk if you need one/some.

Dates for your diary
May 8: Vintage Motorcycle Run and Concours, Key car park, Elvetham Heath
May 22: Lions Den, Church on the Heath , Elvetham Heath
August 1: Lions 20:20 Beerfest
Latest News
Read all the latest news about Fleet Lions...
Equipment hire
We hire out equipment for use at fetes etc.
More information...
A year in the life of Fleet Lions Club
Our thanks to John Sutton of Clearwater Photography who followed us around for a whole year and then turned what he saw into this fantastic film. You the public voted us into THE SHORTLIST of the documentary section the Charity Film Awards. Many thanks to those of you who voted for us. Did the judges put us into the finals? Sadly they didn't but here's a comment from them: "The video told clearly the surprising different work done by Lions and the charities which benefited not just financially but in practical ways". It was an honour to take part along with many other incredible organisations who serve their community too. Ordinary people doing amazing things!
Meetings
The club normally (see below) meets on the second Wednesday of each month at 8:00pm at:

The Grange, Coxheath Road, Fleet GU52 6QR
Why not visit Hart Lions, our sister club in fleet?
If you live in Aldershot, see Aldershot Lions' website.
Our thanks to our main website sponsors:

SERENDIPITY Antiques & Gifts with Tearoom www.serendipityonline.co.uk

HART SHOPPING CENTRE Fleet's premier shopping centre www.hartshopping.co.uk