Please consider making a donation to help us do more
Read our latest Newsletter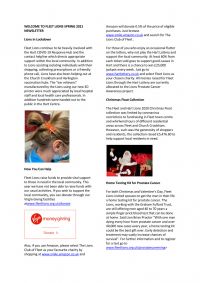 Annual Report
Read our latest annual report

Annual Report Year Ending 30th June 2020.pdf
Help us when you buy from Amazon
It would be great if you'd buy via smile.amazon.co.uk and search for Lions to support our work. Same as using main Amazon website, with no cost to you but we get 0.5% of your spend.
Join our mailing list
We produce a quarterly newsletter to help you to keep up with Fleet Lions! More...
To read current and back-issues see the Friends page
Join Fleet Lions for Fun and Friendship!
Please contact
our membership team: membership@fleetlions.org.uk or via the Contact Us form
Facebook
What's On
Other calendars:

uk holidays

Lions District 105SC

notable
October

2021

Venue

Time/Details

Sat 23rd

Zebon Community Centre, Danvers Drive, Church Crookham GU52 0ZE

Cancelled.

Sat 23rd

Cancelled

Sun 24th

Marlborough and District Lions Club 45th Charter Anniversary Lunch

Chiseldon House Hotel, Chiseldon

Thu 28th

GAT Meeting

Zoom

7:30pm

Fri 29th

Council of Governors meeting

in person

Weekend

Sat 30th

Sat 30th

Hook and Odiham Lions Spooktacula

Beacon Hill, Odiham

5pm - 9pm

Sat 30th

5:30pm till it finishes

Sun 31st

Halloween

Sun 31st

Zoom

10:30am start

November

2021

Venue

Time/Details

Sat 6th

Reading Lions Club Firework Spectacular

Sat 6th

Sat 6th

Gates open at 5pm

Sat 6th

Wed 10th

Business Meeting

8:00PM

Sat 13th

Alton LionsCraft Market

Alton Town Centre

10:00 to 15:00

Sun 14th

Remembrance Sunday

Sun 21st

Council of Governors meeting

Zoom

Wed 24th

Chippenham Lions serving mulled wine at Corsham and Chippenham Xmas Lights turn on

Will be late November or early December

Sat 27th

12:00 to 17:00

Sat 27th

Basingstoke Lions Bi- Annual Quiz

7.30pm

Tue 30th

St Andrew's Day

December

2021

Venue

Time/Details

Wed 1st

Devizes Lions Club Carol Float

1st to 22nd December various locations

Wed 1st

Chippenham Lions Carol Float

1st to 14th December

Wed 1st

Reading Lions Club Santa Sleigh routes

December

Thu 2nd

Burnham High St

5:30 - 9.00pm

Wed 8th

ROAR National Awards Day

Wed 8th

Business Meeting

8:00PM

Sat 11th

Alton LionsCraft Market

Alton Town Centre

10:00 to 15:00

Sun 19th

Council of Governors meeting

Zoom

Sun 19th

Chippenham Longest Day 10 mile

Monkton Park

Mon 20th

Chippenham Lions collection

Morrisons

20th and 21st

Mon 20th

Finance Committee Meeting

Zoom

8pm

Sat 25th

Christmas Day

Sat 25th

Chippenham Lions delivering Xmas lunches

Sun 26th

Boxing Day

Mon 27th

Bank holiday in lieu of Christmas Day

Tue 28th

Bank holiday in lieu of Boxing Day

January

2022

Venue

Time/Details

Sat 1st

New Year's Day

Mon 3rd

Bank holiday in lieu of New Year's Day

Sat 8th

Alton LionsCraft Market

Alton Town Centre

10:00 to 15:00

Sun 9th

Online

7:30pm

Mon 10th

Zone C Meeting

1900

Wed 12th

Business Meeting

8:00PM

Thu 20th

GAT Meeting

Zoom

7:30pm

Fri 21st

Council of Governors meeting

Sat 22nd

Chippenham Lions Burns Night

Goss Croft Hall, Seagry

Sat 29th

Fleet Lions Charter Anniversary Dinner/Dance

North Hants Golf Club

Sat 29th

Wareham Lions Club 50th Charter Anniversary

Sat 29th

Fleet Lions Charter Anniversary

7:30 for 8:00pm

February

2022

Venue

Time/Details

Sat 5th

Chippenhan Lions Charter Dinner/Dance

Golf Club

Wed 9th

Business Meeting

8:00PM

Sat 12th

Alton LionsCraft Market

Alton Town Centre

10:00 to 15:00

Mon 14th

Valentine's Day

Sun 20th

Council of Governors meeting

Zoom

Mon 21st

Finance Committee Meeting

Zoom

8pm

March

2022

Venue

Time/Details

Tue 1st

St David's Day

Wed 9th

Business Meeting

8:00PM

Fri 11th

Swindon

Fri 11th

District Convention 2022

DoubleTree by Hilton Hotel Swindon, Lydiard Fields, Great Western Way, Swindon SN5 8UZ

Weekend

Sat 12th

Chippenham Lions Swing Band Night

Kington Langley Village Hall

Sat 12th

Alton LionsCraft Market

Alton Town Centre

10:00 to 15:00

Thu 17th

St Patrick's Day

Thu 17th

GAT Meeting

Zoom

7:30pm

Sat 19th

Devizes Lions Club Spring Concert

St Mary's Church

Sun 20th

Council of Governors meeting

Zoom

Sun 27th

Mothering Sunday

April

2022

Venue

Time/Details

Sat 2nd

Devizes Lions Sports Coaching Weekend

Various locations

2nd & 3rd April

Mon 11th

Zone C Meeting

1900

Fri 15th

Good Friday

Sun 17th

Council of Governors meeting

Zoom

Mon 18th

Easter Monday

Sat 23rd

St George's Day

Mon 25th

Finance Committee Meeting

Zoom

8pm

May

2022

Venue

Time/Details

Mon 2nd

Early May bank holiday

Thu 12th

Devizes Lions Cub Charity Golf Day

North Wilts Golf Club

Sun 15th

Alton?

10:00am

June

2022

Venue

Time/Details

Thu 2nd

Spring bank holiday

Fri 3rd

Platinum Jubilee bank holiday

Sun 19th

Father's Day

Sun 19th

Council of Governors meeting

Zoom

Wed 22nd

Devizes Lions on the Green

The Large Green, Devizes

July

2022

Venue

Time/Details

Fri 1st

New Delhi, India

Weekend+

August

2022

Venue

Time/Details

Mon 29th

Summer bank holiday

The above dates may change without warning
Fireworks Fiesta: ONLY 1400 TICKETS NOW LEFT!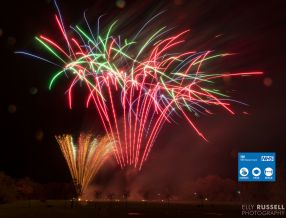 We will have a great display on 6 November at Calthorpe Park, Reading Road North. And do all we can to keep you safe in these uncertain times. We won't have the large number of food & drink stalls we normally have and entry will ONLY be by tickets bought online IN ADVANCE. We will restrict tickets sales to 3900 so the crowd will not be as big as it has been in the past & you will be able to distance yourselves from others more easily. There are more details on our Fireworks Fiesta page, particularly about keeping you safe and how to get your tickets.
Glasgow Climate Change Conference explained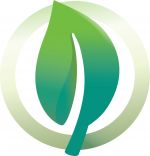 Lions care about the environment, and the biggest issue that faces us all is climate change. On 1 to 12 November 2021, Britain will host a meeting of global leaders, called COP26. They'll talk about what ALL countries need to do to reduce the risks of climate change for us and future generations. So we've attached a document from WWF that explains the issues they'll be talking about and what actions governments – AND YOU - can take to help. Download the presentation here.

Fuel and Utilities Project
Do you know of anyone struggling with Fuel or Utility Bills? Please let us know by emailing us at fuel@fleetlions.org.uk.

Are your financial circumstances such that you could forego your annual Winter Fuel Allowance, knowing that by doing so you could help a local family that is suffering from fuel poverty or problems paying their water bill? Full or part Winter Fuel Allowance donations are held in a fund to pay charges for local families that are in debt to their energy suppliers or water utility. More details here.
Home Prostate screening tests - find the missing men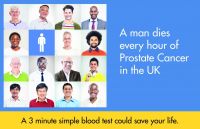 There has been a massive fall in the number of men being referred by GPs for diagnostic tests during the pandemic. So we are sponsoring home testing kits for prostate cancer. Fleet Lions, working with the Graham Fulford Trust are offering Fleet men aged 40 to 70 a simple finger prick test that can be done at home. It'll take 5 mins to follow the simple instructions. Said Lion Brian Proctor, "with one man dying every hour from prostate cancer and 40,000 new cases every year, a home testing kit could be the best gift for life ever. Early detection and treatment may vastly increase chances of survival." To register for a test and Find out more...
Another new member for Fleet Lions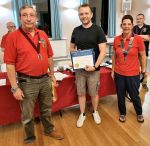 James Nelmes was recently inducted into Lions at our September Club meeting. He had visited committees and Club meetings on Zoom and finally got to help at some of our live events and activities. President Lisa was very pleased to welcome him and he was sponsored by Lion Mark Cooper MJF (on the left) after he was contacted by James initially. It was great to also have our new District Governor Brian Donovan present in the background too (not like him!).

Fleet Lions Volunteer Team
We organise some of the biggest events for the people of Fleet and neighbouring towns to enjoy. And quite a few of them need numbers on the day beyond the members of our Club e.g. it takes 120 people to put on the fireworks event. We have a group of people we can call upon to help us - and join in the fun too. So we call them the Fleet Lions Volunteer Team and we'll give people any training that they need. We'd also like to make sure everyone also has a bit of play - not just work. So let us know if you're interested by using our contact us facility. Our Branch Club in Aldershot are also keen to find people who'd like to help them at their events. So please contact them too if you'd like to do that: Aldershot Lions' website.
Covid-19 support: helping Hart residents
The Coronavirus Hampshire Helpline is 0333 370 4000
A helpline is now available to provide information and advice, as well as practical support, to frail or vulnerable. All calls to this local call rate number will be handled by staff in the Hart District.
Appeal for laptops
or for monetary donations towards hardware then please click here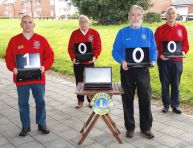 Your local Lions clubs have now provided 1000 laptops/desktops to enable students to continue their education since start of lockdowns. But we are still in urgent need of equipment! We are running out of stock so do you have a spare laptop running Windows 7 or above that we could have to refurbish? We also need to buy quite a bit of hardware to make sure the machines are a good standard. Here's A GREAT CLIP that describes our project.
Please contact it@fleetlions.org.uk where we can have a chat.
Help us boost our fundraising
You may feel you'd like to continue supporting us in the work we do and make a donation. You can do so by using JustGiving which may allow us to claim Gift Aid.
Due to the rules/concerns over Covid-19 all our major fundraising events for 2020 and up to Autumn 2021 had to be cancelled. Our reserves have allowed us to continue helping our local community especially where Covid has increased their needs. We've been particularly careful to make sure the funds we've spent have given really good benefits to local people and organisations. We have continued this with our Christmas food parcels but the existing funds won't last for ever.

Wearing a face mask making your ears sore?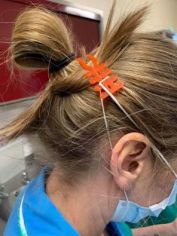 Are you a carer, healthcare provider or essential business? Do you know someone who is? We have been busy making face-mask ear reliever straps. Let us know if you need some. Email info@fleetlions.org.uk.
Young People's Bursaries

Fleet Lions have bursaries to help young people fund their trips abroad to help the less fortunate. Apply to bursaries@fleetlions.org.uk
Message in a Bottle

The Lions Message In a Bottle scheme is a simple idea designed to encourage people to keep their personal and medical details on a standard form and in a common location - the Fridge. See a good descriptive video here. Whilst it is focused on the more vulnerable people in our community, anyone can have an accident at home, so this scheme can benefit anyone, including you. More details here. Contact miab@fleetlions.org.uk if you need one/some.
Who are the Lions?
Lions are the largest community service organisation in the world. We raised over $21 million to help protect tens of millions of children in the world's poorest countries from measles. The men and women of Fleet Lions help local people and organisations where there is need. We organise some of the biggest events in the town to keep you entertained - and we have fun doing so!
Do you have some time to spare?
Please join Fleet Lions Volunteer Team and help us with some of our other projects:
Community Service
Fundraising
or maybe join us for a social evening.
All the help is gratefully received - and hopefully you will enjoy the activity!
Latest News
Read all the latest news about Fleet Lions...
Equipment hire
We hire out equipment for use at fetes etc.
More information...
A year in the life of Fleet Lions Club
Our thanks to John Sutton of Clearwater Photography who followed us around for a whole year and then turned what he saw into this fantastic film. You the public voted us into THE SHORTLIST of the documentary section the Charity Film Awards. Many thanks to those of you who voted for us. Did the judges put us into the finals? Sadly they didn't but here's a comment from them: "The video told clearly the surprising different work done by Lions and the charities which benefited not just financially but in practical ways". It was an honour to take part along with many other incredible organisations who serve their community too. Ordinary people doing amazing things!
Meetings
The club normally meets on the second Wednesday of each month at 8:00pm at:

The Grange, Coxheath Road, Fleet GU52 6QR
Why not visit Hart Lions, our sister club in fleet?
If you live in Aldershot, see Aldershot Lions' website.
Our thanks to our main website sponsors:

SERENDIPITY Antiques & Gifts with Tearoom www.serendipityonline.co.uk

HART SHOPPING CENTRE Fleet's premier shopping centre www.hartshopping.co.uk