Environment
Queen's Green Canopy tree planting
"Local schools and their pupils did us proud" said Lion Graham Drayton who led Fleet's sponsored tree planting exercise. "We had 200 families participating and between them they raised over £2200 for schools' projects." The Lions were a bit disappointed that more youngsters didn't partake in the project as the numbers in Fleet schools well outnumber the 1700 trees we had been provided with to plant. We knew it was a speculative project so took a deep breath, got stuck in and planted the rest of the trees ourselves. After all it was a couple of pleasant days to be out meeting the public and getting some quite fresh air! We were determined our efforts to contribute to the Queen's Green Canopy would happen. So we hope Her Majesty was very pleased with Fleet Lions' efforts! We also had some kind donations from passers-by towards our Ukraine Appeal as well as our charitable funds.

---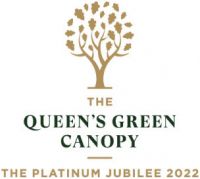 There are now two locations for Sunday where you can pick up and plant your tree. Ancells is now full!
These are the two locations:

Calthorpe Park: Cycle Path, off Merivale

GU51 4EW. what3words code: showrooms.motivations.swung
Church Crookham: Community Centre, Boyce Road
GU52 8AQ. what3words code: configure.suspend.added
Fleet Lions have joined forces with a number of schools in Fleet and Church Crookham to offer trees to be planted as part of the Queens Green Canopy Initiative.

Students will be asked to gain sponsorship via their schools to be eligible for one of the 1,700 trees that have been sourced by Fleet Lions. The event takes place over the weekend of the 26th and 27th of March. Each participant will be issued with a Certificate of Achievement to mark the event and will be given a tag to be tied to the tree, so that they can identify their tree as it grows. With the 27th being Mothering Sunday, what better way than to dedicate a tree to their mother that potentially will outlive them them both .
All money raised by the sponsorship will be collected the participants school, for use on school projects. You can download the form here.
Thanks to Church Crookham Parish Council, Fleet Town Council and HVA sites for planting.
Students simply turn up on the day to one of the two hubs with their completed and endorsed sponsorship form to be issued with their tree and details of where to plant it. This under parental supervision.
Special thanks to support from Cllr Steve Forster and Principle Care Homes (Reading Road North)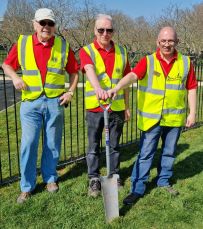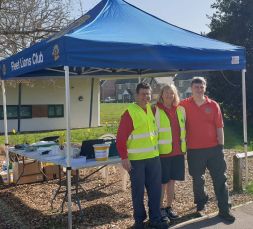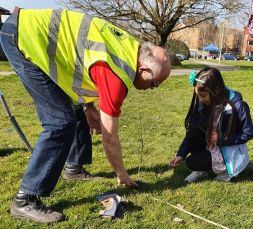 Glasgow Climate Change Conference explained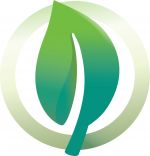 Lions care about the environment, and the biggest issue that faces us all is climate change. On 1 to 12 November 2021, Britain will host a meeting of global leaders, called COP26. They'll talk about what ALL countries need to do to reduce the risks of climate change for us and future generations. So we've attached a document from WWF that explains the issues they'll be talking about and what actions governments – AND YOU - can take to help. Download the presentation here.

Fleet Pond
Fleet Pond is such a beautiful natural resource right on our doorstep. As a club, we like to support the work of the Fleet Pond Society. Why not come along and help us to help them maintain this area to such a high standard?
Here's a short article about our involvement with the Pond.
Wildlife Days
What a fabulous day we normally have with the public of Fleet. And they enjoy our 'wildlife safari'. Sadly the event was cancelled in 2020 and 2021 because of the Covid pandemic. But we got out with our wildlife safari on 18 September as part of Great Big Green Week. Lions Derek and James had a pleasant few hours in the sun with the young people who came along.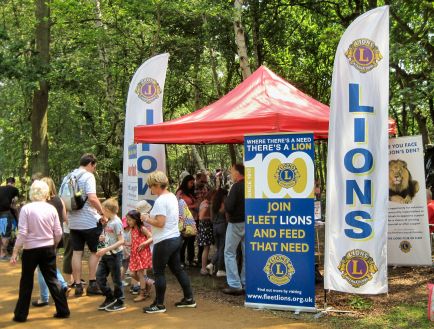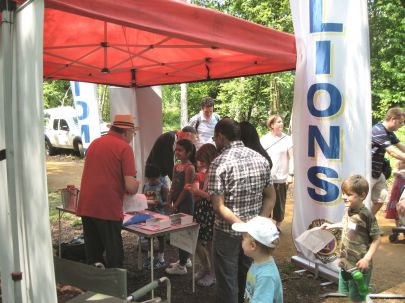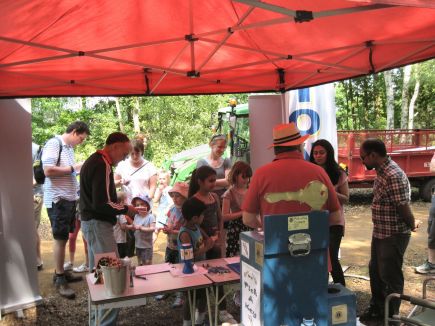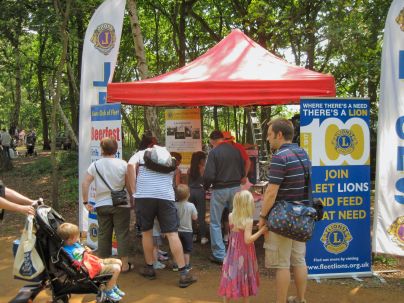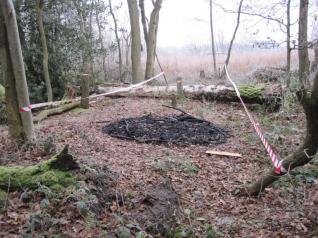 The Lions have always supported Fleet Pond Society by helping on conservation tasks and funding things like new tools and brochures - but this was a biggie! We agreed to pledge up to £12,000 for a new viewing area to be built. We have given various grants over the years to many deserving projects but this is the biggest by far and we believe it will add significant extra enjoyment for the visitors to the Pond.
The Pond Society was keen for a new viewing platform to be constructed to overlook the reed beds (view map) in the north-east marsh, in the area where float planes used to be tested. It would offer new views across the Pond on the side where there currently aren't many at the moment. And Lions cleared the vegetation to make a space for it! Our pledge to support the project meant a full design and costing could be done and permissions for its construction sought.
Spring 2014 saw the Pond's volunteers hard at work building the new viewing platform. And at Easter it was formally declared open by then Lions' President Julian. The experience was finished off in September when an impressive information board was installed to explain about the history of that part of the Pond (and those involved in the construction of the platform!).