Some photos from past Christmas Concerts taken by Lion Richard Keeley

Christmas Concert 2019
Wednesday 4th December
Church on the Heath, The Key, Fleet GU51 1HA

Christmas Concert 2018
Wednesday 5th December
We hosted this free concert at the Church on the Heath again for our older citizens. And many thanks to MORRISONS for letting us use their overflow car park. BOOKINGS CLOSED NOW (If you had wanted to come along then contact concert@fleetlions.org.uk or ring Laura on 07909 901337). It's essential that you reserve places in advance. We may be able to arrange transport for you if you can't get there by yourself.
Please arrive from 7pm for a prompt 7.30 start. Refreshments will be provided during the evening and we have some great raffle prizes too.
We'll have some amazing entertainment for you. BEGINNERS ON STAGE - are a fabulous group of young people from our local drama school. SHUFFLE TUNES - who are much, much more than a choir! The ELVETHAM COMMUNITY CHOIR will be brilliant too. And of course a few tunes from the Lions to round off the night. We look forward to seeing you.
Christmas Concert 2017
Wednesday 6th December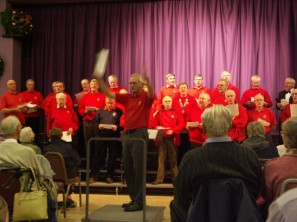 The Fleet Lions Christmas Concert is an annual event held on the first Wednesday in December with local choirs providing wonderful entertainment for senior citizens of Fleet and district.
The show starts with the wonderful school choir from The Grey House School, Hartley Wintney with their conductor, Kath Cleeve. Then the Elvetham Community Choir singing many well known Christmas Carols.
After the halftime break get ready to party with our next act "Champagne at the Blitz". Bubbles of fun with Caroline, Jenny and Sarah. Lots of red lippy and gorgeous costumes singing wartime classics and Christmas favourites. The evening will be rounded off with the Church on the Heath Gospel choir.
The event is once again being held at the Church on the Heath, Elvetham Heath. Curtain up at 7:30 pm prompt.

If you would like to attend this concert, or know someone who would, please email concert@fleetlions.org.uk with your details.
Free transport may be available in the local area.