Good King Wenceslas Project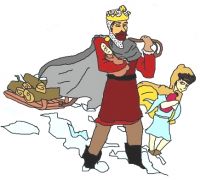 At this time of year of "Goodwill to All Men", are your financial circumstances such that you could forego your annual Winter Fuel Allowance, knowing that by doing so you could help a local family that is suffering from fuel poverty?
The Lions Club of Fleet are following the format initiated by Farnham Lions, whereby donated Winter Fuel Allowances - in full or partial payments - are held in a fund to pay fuel charges for local families that are in debt to their energy suppliers.
All donations are held in a trust under the control of Citizens Advice Hart and Hart Voluntary Action who investigate and vet all claimants. Payments from the trust are made direct to the energy provider, not to the individual families.
Donations can be made through us:
We did use MyDonate in the past but they are closing
so now use Virgin Money


or
Contact us for an address to send cheques to
Please consider Gift Aiding