Jubilee Events June 2022
Queen's Jubilee Celebrations – historic vehicles procession 4 June 2022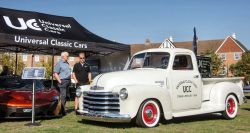 Do you have a vehicle you'd like to enter in an historic vehicle procession down Fleet's High Street on June 4, 2022? The procession will reflect all 70 years of Her Majesty's reign with 70 cars, 10 for each decade. If so then contact henry@uccs.co.uk with a short description, 3 pics and registration date.
Universal Classic Cars (UCC) will organise the procession on behalf of Fleet Lions and it is sure to invoke nostalgia and add fascination to the celebratory event.
Entry criteria is simple. UCC would like to invite cars spanning the 7 decades. To enter the procession please you email Henry with 3 pics of your car to be entered with a short description, date of year it was registered and that's it. Once we have collated all the entries we will let you know if you've been selected. We are expecting a good turn out and way above the 70 cars we need so please don't be disappointed if you don't get selected, early doors details are we will lead and open the show with a precession down the High Street ending up in Calthorpe Park where we will have a marquee for socialising.
Each car will be given a door sticker with its own unique number and colour showing the decade and there will be a people's choice award. You will we be required for the whole day, no exceptions. With 70 cars it will be an epic display and even if you're not showing a car we would love you all to come along to share what promises to be a great day.
Entries to henry@uccs.co.uk