Charity Walk
Sunday 22 August 2021 dawned nice and bright as members of the Lions Club of Fleet started preparations for our inaugural Charity Walk at Naishes Wood SANG in Church Crookham.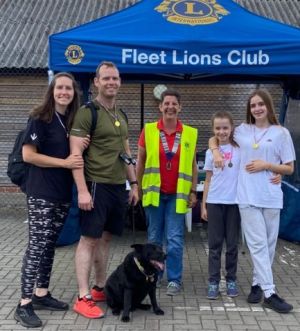 The purpose of the walk was to encourage people in Fleet, Church Crookham and Ewshot to explore their local natural green space and hopefully make more use of it to enhance both physical and mental wellbeing, as well as to raise funds for charity. Three walking routes were offered to cater for various needs, with lengths of 1.5 km, 3.5 km and 7 km. The routes were well signposted and route marshals were on hand at various points to ensure the walkers followed the correct route.
The first walkers started arriving at the starting point, the Allotments/Menís Shed car park in Church Crookham at 10 am, with a steady stream turning up until the last group departed at 12:15 pm. Walkers were given wildlife-spotting sheets to record any animals, birds, insects and plants (and even World War II pillboxes!) they saw on the walk. On their return, each walker was presented with a medal by Lisa Rust, President of Fleet Lions, in recognition of their achievement.
All the walkers returned safely to the starting point and there were no safety incidents before, during or after the walk.
In total, 97 walkers took part, and £403 was raised in contributions towards Fleet Lions charity projects. The feedback from the participants was overwhelmingly positive and it is hoped to repeat the event next year.