Charity Walk
Sunday 15th May 2022
9:30am or 10:00am or 10:30am start times
Naishes Wood SANGS, Off Naishes Lane, Church Crookham, Fleet GU52 8TJ
Come and join us on this lovely walk to see the beautiful bluebells and celebrate the Queen's Platinum Jubilee, while helping people in need.
Fleet Lions are organising this walk in this natural, recreational space of over 200 acres. Do come and join us as we learn about all of the wildlife on the edge of Fleet.
• Suitable for all ages
2 routes available: 3 km and 5.7 km
• Spot as many animals, birds and insects as you can and record on the walk sheet provided
• Enter our competition for best photo
• Children receive a medal as a prize
Register and start the walk at the Naishes Wood SANGS car park (look out for the brown signs) by the Church Crookham Allotments and Men's Shed, just off Naishes Lane on the edge of Crookham Park.
All proceeds will go towards local causes, including helping the needy in our community.
Entry is
£10 per family of 1 or 2 adults and up to 9 children
or £5 per adult
You may pay at the time of registering by credit/debit card or PayPal account.
Report from 2021 event
Sunday 22 August 2021 dawned nice and bright as members of the Lions Club of Fleet started preparations for our inaugural Charity Walk at Naishes Wood SANG in Church Crookham.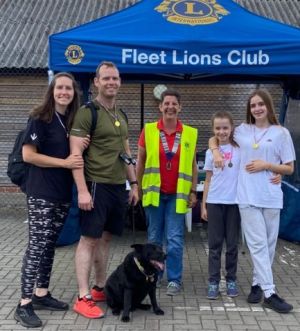 The purpose of the walk was to encourage people in Fleet, Church Crookham and Ewshot to explore their local natural green space and hopefully make more use of it to enhance both physical and mental wellbeing, as well as to raise funds for charity. Three walking routes were offered to cater for various needs, with lengths of 1.5 km, 3.5 km and 7 km. The routes were well signposted and route marshals were on hand at various points to ensure the walkers followed the correct route.
The first walkers started arriving at the starting point, the Allotments/Men's Shed car park in Church Crookham at 10 am, with a steady stream turning up until the last group departed at 12:15 pm. Walkers were given wildlife-spotting sheets to record any animals, birds, insects and plants (and even World War II pillboxes!) they saw on the walk. On their return, each walker was presented with a medal by Lisa Rust, President of Fleet Lions, in recognition of their achievement.
All the walkers returned safely to the starting point and there were no safety incidents before, during or after the walk.
In total, 97 walkers took part, and £403 was raised in contributions towards Fleet Lions charity projects. The feedback from the participants was overwhelmingly positive and it is hoped to repeat the event next year.