Fundraising events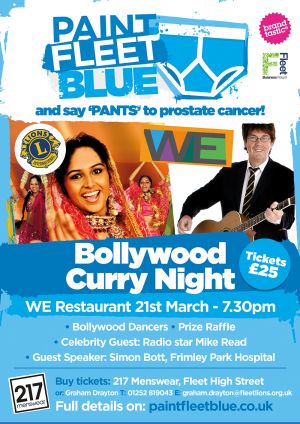 Join us for a fabulous charity evening at WE The Restaurant at 7:30pm on Tuesday the 21st of March in support of the Fleet Lions Prostate Cancer Screening initiative.
Enjoy good food with a selection of Asian dishes (veggie and non-spicy options), Bollywood dancers and celebrity guest DJ Mike Read.

Tickets cost £25.00 each and may be purchased via credit card or PayPal account using the buttons below.
Do please come along to support this worthwhile iniative and have a great evening into the bargain!
We The Restaurant, 333 Fleet Road, Fleet GU51 3BU