37th Classic Motorcycle Run and Concours 2022
We are sorry but for various reasons this event has had to be cancelled, we hope you will not be too disappointed




We very much hope that you will come along again this year and bring with you a friend with a classic bike who has not been before or who has not been for a while.
After discussion with many previous supporters, a shut-off date of 1989 for the classes is to try to preserve the original concept that the Fleet Run is for "Classic Bikes". At the same time we appreciate that some riders do have a second, later bike, if the "old one fails" which you can still come on if the pre-entered one refuses to budge.
Four Horseshoes Challenge Shield
Again this year the Four Horseshoes Challenge Shield will be awarded to the Landladies choice of bike from all those showing an entry number, being judged and presented at the Four Horseshoes lunch stop at Sherfield-on-Loddon. With the main Concours being at the Key Car Park, Elvetham Heath after returning from the road run.
How to enter
Entry 'on the day' is £10.00. All riders receive an enamel commemorative badge.

If you require additional forms these can either be photocopied or downloaded from this website using the following link:
Thanks

Lisa Rust
Lions Club of Fleet
The Classic Motorcycle Rally
To be held on May Day Bank Holiday MONDAY in the Key Car Park at Elvetham Heath on the A323 Fleet to Hartley Wintney Road. Postcode GU51 1HA. The event normally attracts well over 200 entrants with bikes ranging from the early 1900's to the later Classics, with condition varying from untouched original to gleaming concours restoration. Riders come from far and wide around the South East to take part, as it has become a well established event in the enthusiasts calendar.
So if you have been before but not for the last few years or a virgin in the classic bike world, come and join us for our 37th Run from the car park around the Hampshire and Berkshire countryside returning for the Concours in the afternoon.
The route will still be the much tried, tested and loved route that we have all ridden on for many years, which if you have not been before uses good country roads not one track lanes with loose gravel in the middle.
Get the bike out of the garage! Change the oil! Check the plugs! And give it a polish!, unless it is in the wonderful "as original" condition as Pete's bike below, then please don't show it the polishing rag it will have a heart attack!
Polished or not polished you are all cordially invited to attend the 37th Classic Motorcycle Run and Concours of the Lions Club of Fleet.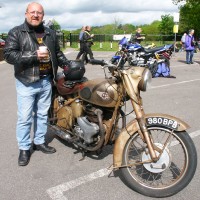 Riders arrive between 9:30am and 10:30am and enjoy a hearty breakfast made available by the Lions Club catering team and washed down with a Tea or Coffee served at half price if you bring your re-usable cup. With the Run starting to leave at 11:00am.
Milling around having a chat and comparing notes, Many riders and visitors meet up year after year at this event. We are always pleased to see old friends and old bikes.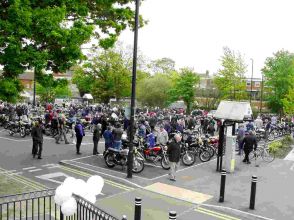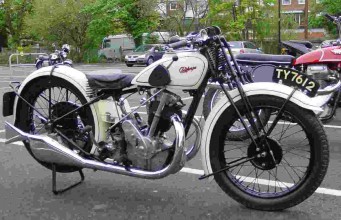 You will certainly have a fascinating day, with some very rare and usual motorcycles and even one or two interesting riders!
The Run will start at the Key Car Park, Elvetham Heath, Fleet and after approximately one mile will follow the tried and tested marked route out to the Hampshire / Berkshire borders using good but not too busy roads. A lunch stop is made at the village of Sherfield-on-Loddon where the two adjacent pubs, the Four Horseshoes and The White Hart at Sherfield-on-Loddon will be waiting to welcome us. The Landladies Choice Trophy is judged at the Four Horseshoes pub, and afterwards, we return to Fleet on the second part of the run for judging the Concours, a good chat, the Raffle and prize giving of the other Concours classes.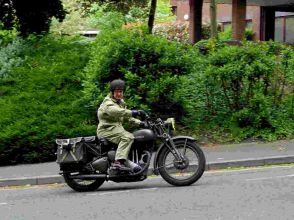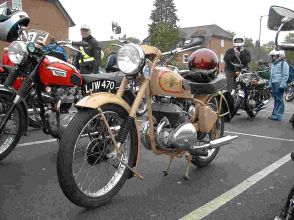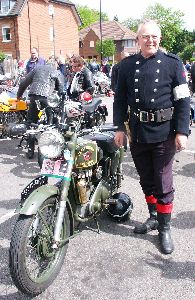 ROAD RUN for 2022
Start at - The Key car park, off A323 at Elvetham Heath, Fleet, Hampshire. GU51 1HA
Finish at - Same.
First Riders leave at 11:00 am. Please check in between 9:30 and 10:30am.
Road Run is approximately 46 miles. Route Cards, Numbers, and Badges etc will be issued on Registration at the start in the Car Park.
There will be no time checks or observed sections. Riders will be despatched at suitable intervals in order to avoid congestion.
The Run Route is marked at junctions were a turn is required by arrows on the road signs.
Machines must comply with all legal requirements while participating in the Run.
Please return to the Start Car Park by 2:15pm. Concours Judging will start at 2:15pm. (Lack of participation in the Run will be taken into account). Trophies will be awarded at approximately 3:15pm.
ENTRY FEE for 2022
Entry 'on the day' is £10.00 Payable by card or cash
All riders receive an enamel commemorative badge to add to their collection.
The Rally is run as a fundraising event for local charities. It is for this reason that we ask for an entry fee to cover the event costs, although these are kept as low as possible, whilst passing the maximum to the charities. Your understanding, support and early entries are very much appreciated.
Entry Classes
| | | |
| --- | --- | --- |
| Class | Year | Award |
| Class A | Up to 1949 | Dave Kent Shield |
| Class B | 1950 - 1959 | Ken Heanes Shield |
| Class C | 1960 - 1969 | North Hants Tyres Shield |
| Class D | 1970 - 1979 | Jack Cooper Shield |
| Class E | 1980 - 1989 | Classic Super Bikes Award |
1st, 2nd and 3rd places in classes A - E receive a souvenir trophy

Also the following will be awarded
Best in Show Challenge Cup
Cheney Racing Shield for Best Used Classic
Hart Motor Cycles Shield for Best Japanese Classic
The Landladies Choice, Four Horseshoes Trophy will be awarded at the Pub at the Lunch stop

**NEW** Kevin Williams Shield for Best Motorcycle and Sidecar Combi
Please email www.fleetlions.org.uk for further information
Previous events
May Bank Holiday 2018

What a fabulous day we all had in 2018 with over 230 amazing machines to be admired. Thanks for coming and allowing us to raise funds for the Phyllis Tuckwell Hospice and Fleet & Church Crookham First Responders.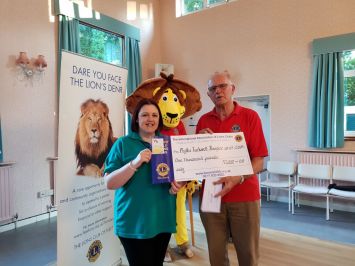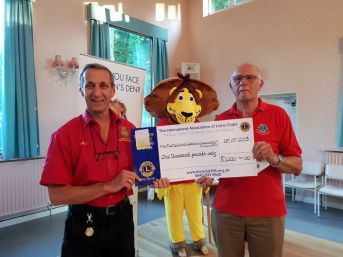 See some photos from the day taken by Lion Paulo Silva.
In 2018 our well supported and successful annual Classic Bike Rally in its 35th year, welcomed approximately 230 classic bike enthusiasts with their very varied mounts from 50cc to 1,000cc. The predicted good weather helped our entry numbers so we thank you for your continued support and look forward to good weather this year and hope you will return again to our venue at Elvetham Heath, which is easy to find, towards Hartley Wintney, but still in Fleet on the A323.
Bikes ranging from the early 1900s to the later classics, with condition varying from untouched original to gleaming concours restoration, were viewed by around 350 members of the public who came to share the day with the riders.
The event is organised by Lions members and many enthusiastic supporters helping throughout the year and on the day to bring the event together, and we take this opportunity to thank them for their loyal support.
The monies raised was £2,200 going to the Phyllis Tuckwell Hospice, Fleet and Church Crookham Emergency Responders and Lions community funds, so we wish to thank all the enthusiasts, members of the public and sponsors of prizes for our raffle, who helped us raise this sum.
Over the past 35 years the event has raised over £67,000 for designated charities through your support. Thank you.
Previous event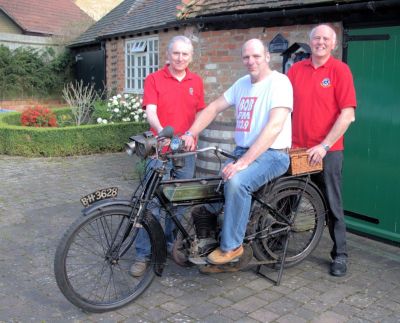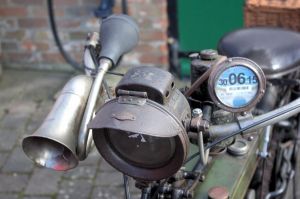 Seated on his New Imperial is enthusiast Andy Deane. The bike was built in Birmingham in 1917 and is still roadworthy today, ridden as long as itís not too hilly and the weather stays dry!
It features:
293 cc Jap engine, 2 speeds, no clutch
No kick start, belt drive and brakes of questionable value
Lever throttle with a manual ignition advance and retard
no wonder it has a loud horn!
Video taken at the 2016 event
Video taken at the 2010 event
Video taken at the 2009 event
Our thanks to our main website sponsors:

SERENDIPITY Antiques & Gifts with Tearoom www.serendipityonline.co.uk