Previous events
What a birthday party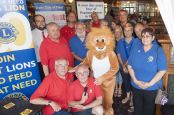 Lions across the world celebrated their 100th birthday in June 2017 - so we had a party for our friends and contacts at the Wetherspoon's Prince Arthur pub in Fleet.

Firework Fiesta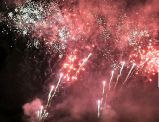 The first Saturday in November and Fleet Lions will once more put on a spectacular Firework Fiesta for the people of Fleet at Calthope Park.
Beer Festival in Fleet
Usually the first Saturday in August at the Harlington. Local beers for local people! More...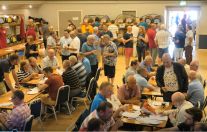 Santa visited Fleet during December...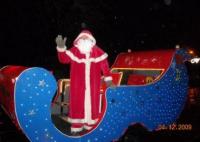 Did you see him and his snowmen?
Carol Concert
The Carol Concert at the beginning of Dember is a great success with over 200 elderly residents braving bad weather to enjoy an evening of entertainment by various choirs and entertainers at the Church on the Heath
World Sight Day

Early October. TAKING A STEP INTO THE UNKNOWN. Fleet Lions join global crusade to conquer preventable blindness. Lions World Sight Day aims to educate millions worldwide. More details...
FunFest

The end of June sees another fun packed day for people with disabilities, their families and helpers. More details...
Motorcycle Rally

May Day always sees a record number of motorcycles at our event at the Keys centre in Elvetham Heath. More details...
Fleet Festivities

Fleet town centre in late November sees huge crowds all enjoying themselves doing some Christmas shopping. There are also rides for the youngsters. We are pleased to see so many people call at our Gluhwein Stall for a drop of mulled wine. Geoff Baker lets us nick his electricity!