Previous events
Big Band Night
Big Band Night, 21st May
Dance the night away to Swing classics, through to Jazz, Funk and Pop with King Groovy and the Horn Stars!
Tickets: £17.50 including a Ploughman's Supper. Find out more.
Firework Fiesta
Saturday 6th November 2010. Yes it's that time of year again and Fleet Lions will once more put on a spectacular Firework Fiesta for the people of Fleet. This year we have moved to a larger venue just across the road from the Views. You may still park in the Harlington Way car park.
Buy your tickets in advance in the Hart Centre on the day and save £££ and pick up a colouring sheet to enter the Colouring Competition (children up to 11 years). More...
Beer Festival in Fleet
Stone's Throw Beer Festival Saturday 14 August Local beers for local people! More...
Santa visited Fleet during December...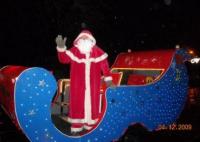 Carol Concert
The Carol Concert at the beginning of the month was a great success with over 200 elderly residents braving bad weather to enjoy an evening of entertainment by Heatherside School Choir and Hart Male Voice Choir. Read the full report.
Fireworks Fiesta
The fireworks fiesta on 7th November 2009 was a great success. Read our full report.
We had over 70 entries in the colouring competition! See the Gallery
World Sight Day

Thursday 8th October 2009. TAKING A STEP INTO THE UNKNOWN. Fleet Lions join global crusade to conquer preventable blindness. Lions World Sight Day aims to educate millions worldwide. More details...
Menagerie Beer Festival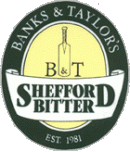 Saturday 15th August 2009. The 3rd Fleet Lions Beer Festival was held at Ancells Community Centre in Fleet. It was organised in conjunction with the Banks & Taylor Brewery (Shefford Ales) and was another roaring success! More details...
Fleet Carnival

Despite the showers, Fleet Carnival on Saturday 11th of July 2009 was a great success. Fleet Lions' entered in to the spirit with a float to promote our forthcoming BeerFest and was rewarded with 2nd Prize! More details...
FunFest

Sunday 28th June 2009 sees another fun packed day for people with disabilities, their families and helpers. More details...
Motorcycle Rally

Monday 3rd of May 2010 saw a record number of motorcycles at our event at the Victoria Road car park. More details...
Christmas Float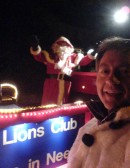 December 2008. Santa and his merry snowmen have put away the Lions Christmas Float for another year. Thanks to the generosity of the people of Fleet, we collected several thousand pounds for those less fortunate than ourselves and had a great deal of fun doing so. More details...
Fleet Festivities

Fleet town centre on Wednesday 26th November 2008 saw huge crowds all enjoying themselves doing some Christmas shopping. There were also rides for the youngsters. We were pleased to see so many people who called at our Gluhwein Stall for a drop of mulled wine. We were outside Vickery estate agent who kindly let us plug in our electric urns to heat the mulled wine.