Fleet Firework Fiesta this Year will be on Saturday 5th November
We are planning another great evening for all the family! This year printed tickets will be sold in October in the Hart Shopping Centre and also at Serendipity. We have also agreed to sell tickets Online through the Best of Fleet's Online Ticket Service (Fatsoma). This will mean you can purchase from the comfort of home and be able to use our Fastrack Gate in Reading Road North Entrance. PLEASE WATCH OUT FOR MORE NEWS
Firework Fiesta 2015
Last year's Fleet Lions Firework Fiesta was another hugely successful event, with 5,000 people turning out to help raise over £17,000 for Lions-nominated charities.
Take a look at this great video made during the evening by John Sutton of Clearwater Photography! It gives you some idea of the amount of time and effort put in by the members of Fleet Lions and their families and friends. Most of all, though you'll see the joy and fun on the faces of the crowd!
Doubts had been raised earlier in the day about the weather, with a lot of blustery rain around, but the showers died away in the afternoon to leave a fine and dry evening in which to watch the show. Fleet Lions put on their most elaborate display ever, which began with the lighting of a flaming beacon.
There was more food laid on than ever before, from South African fare, through pizzas and Nepalese, to the ever popular Lions own BBQ. Despite the extra choice, all the stalls sold out of food - a real measure of the event's success.
The response from the public on social media has been incredible, with many people saying it was the best display they'd ever seen, and that Fleet Lions had really upped their game.
The event wouldn't be possible without the help of the volunteers, and involved the hard work of 90 Lions and others in the setting-up, the event itself and the clearing and breaking down afterwards.
If you are interested in volunteering to help at next year's display, please get in touch with Fleet Lions via the Contact Us page.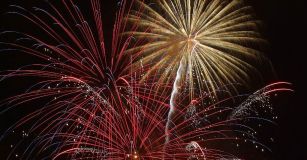 Our thanks to our main website sponsors:

SERENDIPITY Antiques & Gifts with Tearoom www.serendipityonline.co.uk

HART SHOPPING CENTRE Fleet's premier shopping centre www.hartshopping.co.uk