Fleet Lions Aldershot Club Branch
December 2012
Festive Fun With The Lions at Parkside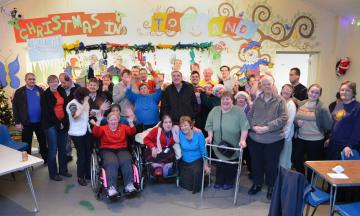 Pictured here are the smiling faces of the members of the Gateway Club at Parkside (Aldershot & District Mencap) Christmas Party with members of Farnborough and Aldershot Lions Clubs.
For over 25 years Farnborough Lions Club has helped organise the annual Gateway Club Christmas Party at Parkside. The Gateway Club is a social club for those with learning disabilities who live in the Aldershot area. It has over 100 members on the books with 65 who regularly attending on Wednesday evenings.
For the second year now Farnborough Lions have been joined by members of the newly formed Aldershot Lions Club to help organise this party.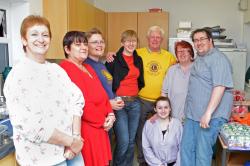 Farnborough Lions President Richard Keeley said "It is always a pleasure to help run the Gateway Christmas Party at Parkside. For many years Parkside, as a charity has given both children and adults with learning difficulties the opportunity to develop their individual life skills and take part in activities within the local community. Parkside develops and strengthens links with local people and organisations such as the local Lions clubs, creating opportunities for everyone to become involved and be included."
Richard Keeley
Farnborough Lions Club

February 2012
Meet the new team!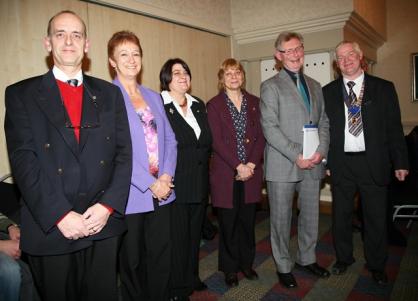 Lion President Ian Hambleton, Lion Carol Cross, Lion Carole Hambleton, Lion Janet Jones and Lion Alex Crawford together with Fleet Club's President, Lion Ken Carter at their badging up ceremony held at the Lismoyne Hotel, Fleet on 1st February 2012.
The ceremony took place in front of Lions representing the sponsoring Clubs of Hart Lions, Hook and Odiham Lions, Farnborough Lions and Fleet Lions as well as Farnham Lions and Lions dignitaries from across the region including District Governor Lion Ron Twining.
If you are interested in joining Aldershot Lions please use the Contact Us form.